Daraz wants to deliver to 15,000 homes daily
By Uwin Lugoda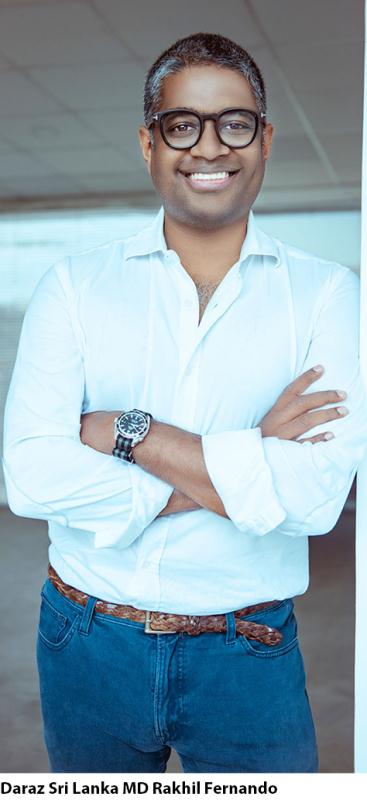 With the economy at large being on thin ice, the retail industry has found a new lifeline to help them through these turbulent times – e-commerce. An ever-expanding industry with consumers worldwide spending nearly $ 3.46 trillion online in 2019 and retail sales being estimated to reach $ 6.5 trillion by 2023, the sector was already booming. But since the outbreak, online shopping has been accelerated into overdrive; even the largest retailers on the planet are struggling to keep up with the unprecedented consumer demand.
Even in Sri Lanka, consumers are now depending on online shopping for their essentials and have seen many of the country's top retailers switch to online. This is especially the case when it comes to already established e-commerce sites such as Daraz, one of Sri Lanka's largest e-commerce platforms which connects thousands of sellers to millions of consumers across the country, and has brought with them the expertise of its parent company, Alibaba Group.
Alibaba is China's answer to Amazon with its massive e-commerce platform and forays into cloud computing and digital media. IDC (International Data Corporation), a premier global market intelligence firm, estimated that Alibaba controls 47% of China's Infrastructure-as-a-Service (IaaS) cloud market; as of last year, it had controlled about 55% of the country's e-commerce market share.
In May 2018, the Alibaba Group acquired the Daraz Group, along with its operations in markets such as Bangladesh, Myanmar, Nepal, Pakistan, and Sri Lanka, which covers more than 460 million people.
Having operated through the initial outbreak in China, Alibaba has been able to bring in a unique level of experience to Daraz in all its markets. Alibaba ensured the supply of food and essentials to millions of people in China during the SARS (severe acute respiratory syndrome) and Covid-19 lockdown, and has managed to thrive under unprecedented conditions due to the company's inherent adaptability and agile mindset.
While facing this crisis, Alibaba also managed to help the Hangzhou Municipality set up a trial app in early February in order to use big data to help monitor control of the virus' spread, individual by individual, so that communities could more quickly return to normalcy. The company and provincial governments across China were able to set up the app nationwide within a few weeks.
Speaking to The Sunday Morning Business, Daraz Sri Lanka Managing Director (MD) Rakhil Fernando stated that Alibaba has generally been involved in the Sri Lankan operation, both technology-wise and also in implementing best practices, and has continued to give them a lot of support during the outbreak by deploying all the best practices that have proven to work in China.
"The key is the reliability in both the delivery and selection of products, all the while maintaining the highest safety standards for both employees and customers."
Fernando explained that during a global crisis such as this, they have to look not only at the immediate needs and measures such as social (or physical) distancing, but also at how to interpret those needs into more sustainable lifestyle models.
"How do you open up the economy but maintain social distancing? How do you allow people to normalise, with a minimal need to venture into crowded places? Soon, consumers' needs will grow beyond essentials and companies like us will need to service that."
He stated that the solution to this is a centralised fulfilment model where sellers channel goods through a central platform like theirs, which incorporates both the system and location as Daraz is able to handle the volumes for a market like Sri Lanka.
Furthermore, the Co-founder of Alibaba recently also went on to donate face masks and Covid-19 tests to Sri Lanka through Fernando.
Speaking on their safety measures, Fernando stated that they are currently employing both World Health Organisation (WHO) standards and Alibaba's best practices amongst all their staff and delivery riders. This includes having all their staff wear surgical masks, use hand sanitiser when entering a facility or delivering a package, be subjected to daily temperature checks, disinfect packages before delivery, and staff members keep a 1.5-metre distance from each other at all times when in Daraz facilities.
Fernando stated that their human resources (HR) team has also been fantastic in constantly staying in touch with all their 700-plus staff. He explained that the HR team has been focused on educating the staff on how to best handle this pandemic.
"We have had steady support from our parent company Alibaba and the Jack Ma Foundation. We also have the benefit of experience here, so every employee has access to key teachings and practices from China which faced the crisis before us."
Fernando stated that Daraz is currently operating their warehouse, sorting centre, and local hubs to continue their deliveries in Colombo. However, due to the restrictions in inter-district travel, he explained that they are finding it difficult to replenish their hubs with stocks and have no clear path to follow to get the needed approval.
"Due to the current restrictions, we're focusing primarily on Colombo 1 to 15 and any areas where curfew has been lifted."
However, despite this, Daraz still delivers essential supplies to around 2,000 households daily within Colombo and its suburbs. But according to Fernando, they have the capacity to go beyond this and fulfil 15,000 orders daily and so plan to further increase their capacity in the coming week.
"The primary limitation is the current system of essential goods delivery approvals. We have the capacity to deliver 15,000 orders islandwide every day. If the current curfew pass model shifts to allow centralised delivery on top of the decentralised model currently approved, we have the reach to get more goods to households and the authorities have a far more robust, accountable, and proven model to depend on to service households."
As for their stocks, Fernando stated that currently their primary suppliers are doing a great job of replenishing their warehouses, and so Daraz has enough stocks to last till the end of the lockdown.
He stated that with further government support, Daraz could implement a clear and highly optimised logistics process to maximum households receiving both essential and other goods islandwide, while minimising the need to have large amounts of their workforce on the ground.
"We can help essential goods and other brand owners and retailers to get their goods to people's homes and reignite the economy. As our platform can support 20 million unique visitors on it at any one time, we have both the technology, infrastructure, and operational processes to both handle huge order volumes, 100,000s of sellers making sales, and 10,000s in daily last-mile deliveries islandwide."
Fernando stated that their platform has been attracting around 150,000 unique visitors daily, and due to a huge demand for essentials across the island, they have seen large volumes of new users downloading the Daraz app during the past few weeks.
As for deliveries, he explained that the current curfew parameters have been challenging for them due to the passes being limited to particular zones, making it difficult for them to execute their model of centralised fulfilment.
"Our plan is to familiarise the authorities with our model and how effective it has been in China during this crisis as well as the SARS epidemic. This model is very much in sync with both the Government's short and long-term agendas of ending this crisis efficiently by empowering communities and eventually digitalising our society."
Finally, Fernando stated that despite the large amount of orders, they have been compelled to curtail the supply to the present demand as they cannot fulfil deliveries to all their customers islandwide. Nevertheless, they are tirelessly working on changing that.
As our platform can support 20 million unique visitors on it at any one time, we have both the technology, infrastructure, and operational processes to both handle huge order volumes, 100,000s of sellers making sales, and 10,000s in daily last-mile deliveries islandwide.
The primary limitation is the current system of essential goods delivery approvals. We have the capacity to deliver 15,000 orders islandwide every day. If the current curfew pass model shifts to allow centralised delivery on top of the decentralised model currently approved, we have the reach to get more goods to households,