Laptop and smartphone sales increase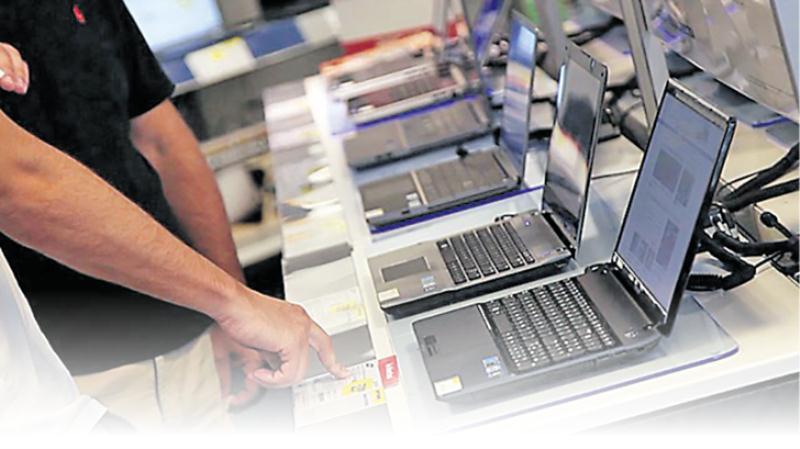 The "work/study from home" concept necessitated by the Covid-19 pandemic has boosted sales of laptops and smartphones during and after the curfew period.
Abans Group Chief Operating Officer (COO) Channa Pathirana told The Sunday Morning Business that his company certainly expects a demand during this post-curfew time period for laptops and smartphones as the pandemic has made them must-have devices in every household.
"Laptops and smartphones have become like washing machines and refrigerators. They are not luxury items anymore.
They are necessities now. I would say it's really good for a developing country like Sri Lanka to have increased and improved technology in every household," Pathirana stated.
He further added that currently children are attending online classes and schools from the comfort of their homes and there is a need either for a smartphone or laptop for them too. This is expected to support the expected demand further.
Pathirana stated that they received online orders for laptops and smartphones, but they were not able to complete all orders due to several challenges during the curfew period. However, Abans has begun completing those orders now.
On a different note, he appreciated the move by the Government to exempt smartphones and laptops from the negative list of imports. He added that the electronic industry is one of the biggest industries in Sri Lanka and that it contributes significantly to the national economy.
Meanwhile, speaking to The Sunday Morning Business, Softlogic Holdings PLC Group Director of Marketing Desiree Karunaratne stated that Softlogic sold smartphones and especially laptops online during the curfew period as almost everyone was working from home and every household felt the need of a laptop.
She added that with their stores being physically open in all districts from 26 May onwards, sales of smartphones and laptops might further increase as traditional customers prefer visiting stores instead of buying online.
"We had a fair number of laptop and smartphone sales during the curfew period. Consumers bought online. But now, they can visit our outlets and speak to our agents, get product specification, and purchase physically. We have product details online too, but still there is a segment of customers that prefers talking to a sales representative," Karunaratne added.
According to her, the expected increase in sales will also be due to people still working from home, despite the curfew being removed as most of the companies prefer this concept in the long term.
On a further note, Karunaratne added that Softlogic has not increased prices of smartphones and mobiles as they were exempted from import restrictions two weeks ago.
"Anyways, there is no need for a price increase in laptops or smartphones because what we are selling now is the stocks we would have sold during the Sinhala and Tamil New Year if there was no curfew. We have enough stocks," Karunaratne added.
The trend of increased laptop sales amidst the pandemic is being witnessed around the world since the outbreak of the Covid-19. As international media reports state, demand for new laptops has been rising online and in retail stores, causing many models to be sold out faster than never before, also making them one apparent winner of the pandemic, along with groceries.
Microsoft Chief Product Officer (CPP) Panos Panay in a BlogSpot article noted that over a trillion minutes are being spent on Windows 10 a month at the moment, which is a year-on-year increase of 75%. In March, during when most of the countries the world over entered into long lockdowns, Microsoft reached one billion active Windows 10 devices.
However, global demand for smartphones during the pandemic has been different to that of laptops, international media reported. Early May, Samsung and LG reported weak mobile sales and Apple reported plunged revenue compared to last year.