UK start-up helping Sri Lankan fashion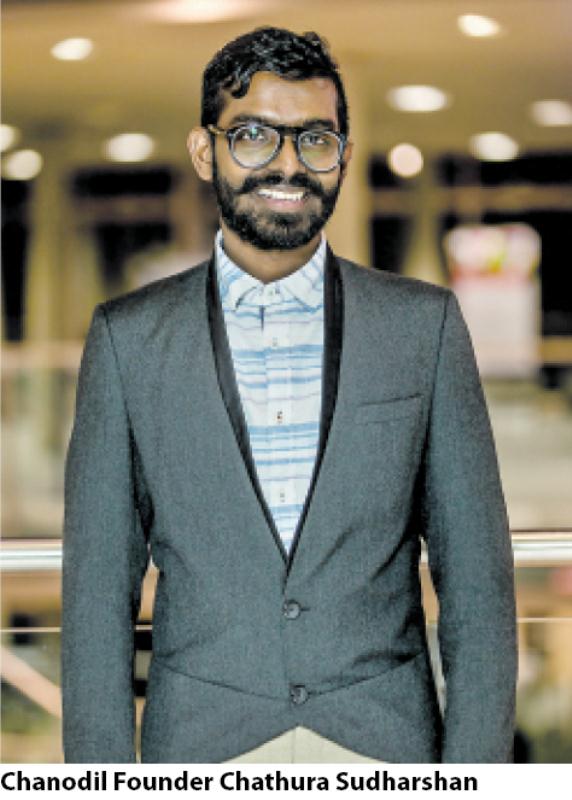 By Uwin Lugoda
Apparel is one of Sri Lanka's main exports that has given rise to many large-scale apparel manufacturers to penetrate several international markets and brands. However, smaller apparel manufacturers usually lack the same reach as these larger companies.
In order to combat this issue, Chanodil, a UK-based start-up, is now giving local small and medium-sized enterprises (SMEs) and manufacturers a platform to reach international brands.
Established in 2019, Chanodil acts as an online service that connects fashion manufacturers, suppliers, fashion designers, and buyers with each other in order to allow growth and recognition for each business.
"This B2B (business-to-business) service allows each business to increase its visibility whilst collaborating with a wide variety of fashion stakeholders from across the globe," said Chanodil Founder Chathura Sudharshan.
Getting on board
Speaking to The Sunday Morning Business, Sri Lankan-born Sudharshan stated that Chanodil offers a software solution to allow fashion businesses to manage and track their orders on a single platform, simply by logging into their online profile. He explained that the start-up looks to make the ordering process faster by cutting non-value-adding steps in the process for businesses through the click of a button, thereby helping them save time and money as well as easing their production processes.
According to Sudharshan, the concept for the start-up came to him out of his long career in the fashion industry, having worked in Asian and European countries related to fashion and textile. Having noticed that the industry still had room for technological improvement, he stated that he began to think of new ways to automate the fashion supply chain.
"During this time, I also noticed that most of the fashion brands do not have a proper channel to connect trustworthy and reliable fashion manufacturers while managing orders easily through one system. That is when I decided to start Chanodil."
The start-up currently has a reliable list of local, audited garment manufacturers and suppliers to ensure the international brands on the platform are connected with qualified and trustworthy manufacturers. This also allows Sri Lankan manufacturers to gain exposure by working with international brands, without having to incur any marketing or promotional expenses, and cater to new markets.
Sudharshan stated that in order to register with the platform, they first conduct a factory audit and sign a NDA (non-disclosure agreement) with the local manufacturers to ensure they are up to the standard and can keep customer information safe.
"We check the crucial factors such as use of labour policies, wages, and environmental impact; then grade them based on each of these processes; and move on to the NDA if they grade over the pass mark."
He stated that once both the audit and legal processes are complete, they register the manufacturers into their online platform and give them their login information, which they can use to freely log into the system whenever they need to.
These manufacturers can then use their profiles on the site to look into available inquiries from different international brands. The inquiries posted by the brands will include all the information the manufacturers need to produce the order, such as quantity, techniques, target price, and project deadline. Once the manufacturers find a suitable inquiry matching their capabilities, they create a product proposal and forward it to the brand.
After a proposal is accepted by the brand, they will communicate with the manufacturers through the platform and confirm the order. Furthermore, the manufacturers can update the status of the order onto the system, helping the brands stay informed on the process as it flows.

Making ideal connections
"Chanodil is a fully automated system which needs minimum manual interference and less information input. In order to connect the right brands with the right manufacturers, we have categorised both the manufacturers and brands based on their capabilities and parameters, respectively," Sudharshan explained.
He further explained that this system helps them connect brands with the perfect manufactures for each of their clothing lines. This also allows brands to hire multiple manufacturers based on their full range/collection.
Sudharshan stated that most brands pick Sri Lankan manufacturers for products such as activewear, swimwear, maternity wear, and streetwear. However, he said that the platform is now looking to expand production of items such as casual wear and formal wear in Sri Lanka as well.
"We are also working on high-tech products such as wearable electronics and patented products, which are currently developing initial prototypes for in Sri Lanka, and we have the potential to get mass order manufacturing for these."
Speaking on local standards, he stated that a majority of the local manufacturers have the standards that international brands require and are willing to learn new things in order to reach these brands. He explained that they help these manufacturers upgrade their processes and mould them to fit the requirement the international market is looking for.
"Apart from helping these manufacturers increase their product quality, we also help them improve their communication and etiquette when dealing with these brands."
Sudharshan stated that currently they have brands from several countries such as the UK, the US, Canada, Denmark, South Africa, Australia, and Sweden, which have signed up with them. He stated that these brands are predominantly online sales target businesses, with some being start-ups themselves and others being well-established fashion brands.
As for local manufacturers, he stated that the platform currently has about 20 entities registered, out of which about 70% frequent order inquiries are matched to their capability and capacity. The rest of the manufacturers are those who specialise in niche products, which are less frequent.
"In the beginning, we reached out to manufacturers and offered them our services. However, now we have a lot of manufacturers contacting us via the site, wanting to join the platform."
Sudharshan stated that so far, they have had a lot of positive feedback from the local manufacturers, most of whom are currently receiving orders from brands that are thousands of miles away and were otherwise unreachable to them. He explained that this has created a whole new market for some of these manufacturers, leading them to earn more revenue and experience.
However, one of the biggest challenges for Chanodil and local manufacturers is posed when it comes to material sourcing as Sri Lanka does not have a strong local material supply chain. He explained that this has led to manufacturers depending on materials from other countries, impacting the countries' competitive prices.
Due to this lack of a supply chain, most small-scale local manufacturers do not have the proper understanding to source materials, especially when it comes to organic fabrics, technical textile, and certified textile. He stated that this was also the case when it comes to new materials entering the market.
As a result, he stated that Chanodil has to make an extra effort to guide and teach local manufacturers on how to overcome these hurdles.
"In some cases, we have had to build up a totally new supply chain for local manufacturers, helping them cater to these international brands with confidence."
Speaking of revenue, Sudharshan stated that they make their revenue in two main mechanisms: First is a service fee they charge on the orders that are being completed through their platform, which is calculated automatically and is transparent to the manufacturers, and the second is a monthly subscription fee from customers/brands that place more than five orders per month via the platform.
Chanodil also hosts manufacturers from other Asian countries such as Bangladesh, China, India, and Pakistan and currently also has few registered manufacturers from several Eastern European countries including Poland and Romania.
Braving through Covid
According to Sudharshan, Chanodil's success did not slow down during the recent Covid-19 pandemic, but instead became an accelerator for the start-up. He explained that since their business model is a fully digitalised supply chain, and many in the apparel industry were looking for digital and work-from-home solutions, they began to embrace the start-up.
"Covid-19 is helping us grow our business in terms of the number of customers and orders. However, it has also negatively affected our supply chain and logistics. But the positive impact it has had on us definitely outweighs the negative one."
Sudharshan stated that they are currently planning to expand their manufacturer base in Sri Lanka, giving the local SME apparel manufacturers more opportunity to reach international markets which are otherwise unreachable. He went on to state that the start-up is also looking to promote more ethical and sustainable manufacturing units to brands all around the world in order to reduce the environmental impact from the fashion industry.
"Our overall plan is to build this as a unicorn business with happy customers from around the world and make our platform the go-to choice for small and medium-scale fashion-related sourcing globally."