A privatisation case study – the Veytex story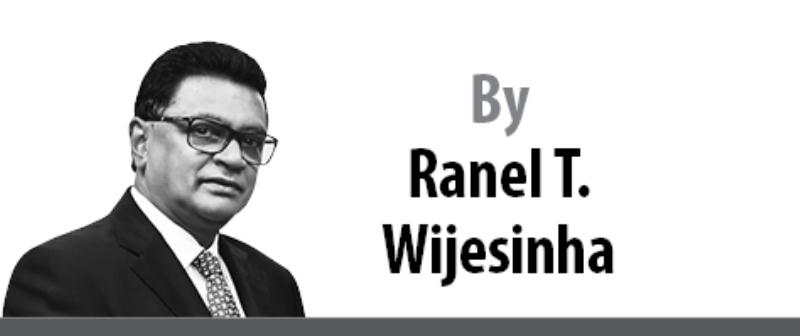 This is a sequel to the previous week's article on the topic of privatisation, given also the requests of readers that I share a few practical examples. Although I was reserving case studies for workshops, I thought I must share this experience this Sunday. As I have often stated, we professionals must share our experiences, such that both politicians and professionals will engage in debates of substance and reality, rather than rhetoric and insecurity.

Veyangoda Textile Mills – Veytex
Veytex was an "integrated mill" designed and built decades before and thus imported cotton, and in the old-fashioned way performed all the functions of spinning, weaving, dyeing, finishing, printing, etc. using old and outdated looms, inappropriate printing machines, outdated techniques, and with inadequate focus on quality control, an absence of focus on "market demand-driven" product design etc., and much more. The entity was technologically obsolete and overstaffed.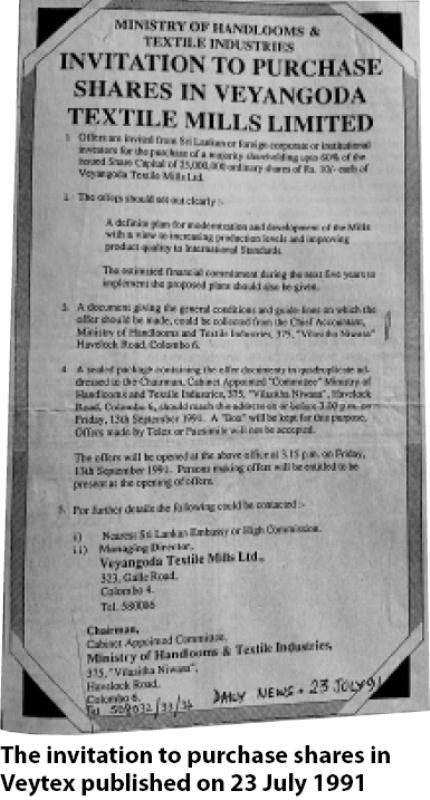 The bid conditions
This was a state-owned fabric manufacturing enterprise, the divestiture of which was advertised in the press, somewhere in the very early 1990s, inviting bidders inter alia to (1) provide assurances on retaining staff; (2) demonstrate technical and financial capability to implement a five to seven-year modernisation and technology upgrading master plan; (3) demonstrate ability to progress to a certain level of ISO (International Organisation for Standardisation)-related quality standards; (4) demonstrate ability to improve productivity; (5) demonstrate ability to market the fabric, etc.
The challenge – the professional opportunity
I was advising a large, diversified, listed conglomerate through an in-house position I proposed the establishment of, and thus functioned as Director – Business Development. The group had not performed similar analyses of SOEs (state-owned enterprises) or performed valuations and designed complex bid strategies before. The group had outsourced similar tasks to firms of chartered accountants, given also that investment banks were in a learning curve around that time. The group's attempts at winning regional plantation companies had been unsuccessful and the recently appointed Chairman sought my advice. I took on the task to perform the due diligence in-house. I must thank him for the opportunity.
Restrictions to the scope of 'due diligence'
The period granted for due diligence and submission of the bid, however, was limited. Given the necessity to respond professionally to the several conditions listed under the bid conditions above, this constraint was more pronounced. A profile of the entity, developed by a firm of chartered accountants under the Terms of Reference of the Commercialisation of Public Enterprise Division (COPED), the predecessor to the Public Enterprise Reform Commission, was available. However, this was an overview and did not provide a technical assessment of plant, a business diagnosis, or enterprise valuation.
Enter – a joint bidder sans cash
A large and now high-profile textile manufacturer and the blue-chip company I was advising had in principle decided to be joint bidders and share equity in equal proportions, with one party – the textile manufacturer – proposing that they will settle their part of the purchase consideration out of future dividends! Yes – out of dividends, of a yet-to-be-"turned-around", reformed, or restructured and repositioned, ailing SOE!
Managing risk – undaunted
The risk to my "in-house client", my employer, hit me like a tonne of bricks. However, at our first meeting, all were happy with the potential joint bidder's "prowess" in textile manufacturing, which we as a company did not have, either as an institution or within our group human resource inventory of people as it were. Recognising my discomfort with the risks, rather mischievously and humorously, the Group Finance Director, calling me into his well-furnished office, remarked: "Even your US MBA does not give you the textile manufacturing expertise which they have, we do not also need outside experts, so let's go for it." I had decided to risk manage for the group and be the "bad guy" as my profession and conscience would have expected of me, so I was not intimidated by that comment.
Outsourcing independent experts – TTSC in Ratmalana
The Chairman gave me complete independence, hence I searched islandwide for woven fabric manufacturing domain experts, and the Ministry of Industries introduced me to a Mr. Pararajasingham, the Director of the Textile Training and Services Centre (TTSC) in Ratmalana, the only unit at that time that had technically qualified and experienced persons to provide the advisory inputs I required. I dashed to Ratmalana and evaluated the team. Fortunately, they had eight textile technologists in spinning, weaving, dyeing, finishing, and printing; some of whom were German-qualified and trained. Within two days, I drafted terms of reference and requested a proposal. Their proposal took time but was comprehensive. The Chairman readily approved their fees. We retained TTSC.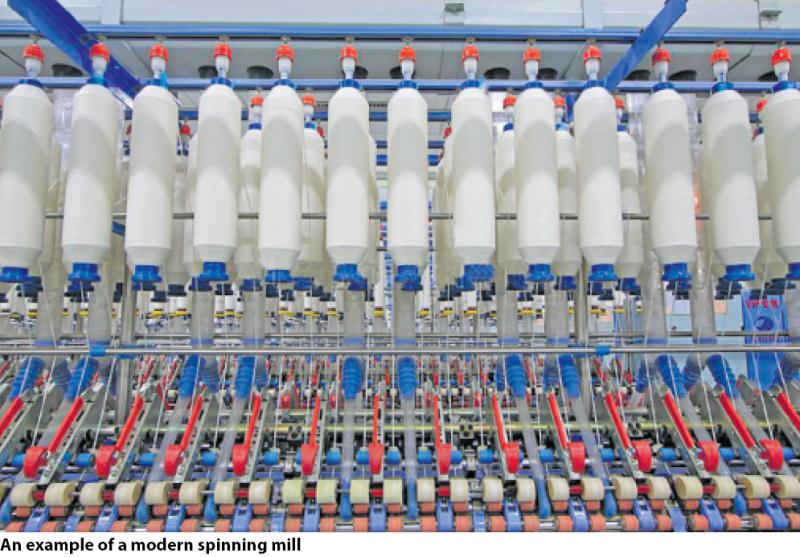 TTSC's marathon effort
The TTSC worked overnight and weekends, and developed the "technical diagnosis" and several alternate scenarios of upgrading, which I had requested under a big bang, as well as phased out two, three, four, five-year modernisation and upgrading plans. I dialled in varying degrees of finance, in various different phases. Other inputs for my analysis and valuation were also obtained and we visited the factory several times to further diagnose the strengths and weaknesses of the entity.
Sensitivity analyses
We developed several alternate ranges of enterprise valuations. Each valuation scenario reflected a level of investment for modernisation and upgrading, which inter alia contributed towards productivity improvements, but also simultaneously rendered redundant a high proportion of staff on an annual basis for two to five years. Given the bid condition that all staff were required to be retained at terms no less favourable than that which existed at the time of the proposed privatisation or divestiture, we developed a voluntary retirement package – a cash outflow for each such number rendered redundant. The price we arrived at, at our costs of capital then and assessment of risk premia, was alarmingly low or negative. None of the scenarios looked positive.
Recommendation to the Chairman and Board
My conclusion was that we should not bid since. At that time, there was also a sector-related opportunity cost in this. We had been approached by an Australian party, with whom, for a quantum similar to the bid price expected by the Treasury and the Chief Government Valuer for Veytex (a figure which was "in the air" as it were), we could have built a profitable, single jersey knitted fabric plant rather than inherit an integrated, outdated, overstaffed, unstable, cash-demanding SOE producing uncompetitive, low-quality woven fabric, and a possible very hostile staff in the event a redundancy plan was to be implemented. My recommendation was clear and I did not sway.
Swimming against a tide
The Chairman called me home early a.m. that day, before I left for office, sought clarifications, and as usual, he had read my detailed rationale, and understood my logic and risk management for the group. It was as always a distinct pleasure to explain any rationale to him. He urged me to attend a luncheon meeting he had convened. I had a parallel meeting with a Korean delegation from KOTRA (Korea Trade-Investment Promotion Agency) at the Ministry of Industries followed by lunch at the then Ramada Renaissance (subsequently Trans Asia and now Cinnamon Lakeside). Realising that it was a meeting hosted by the then Minister of Industries, later Prime Minister, he respected my obligation, but requested I be there at coffee to explain my position.
The vote
I was there in time for coffee and more. The senior founder of the now high-profile textile manufacturer was politely, charmingly, technically convincing. All agreed with him. The Chairman remained observant. I recall having to swim against the tide. The Chairman took a vote. All, except me, voted to bid and to win. The Chairman did not vote, but stating that my recommendation was zero, suggested we bid half the amount all present suggested! I intervened and very gently opined that the bid would be of academic value and that we may as well not invest professional hours to prepare the comprehensive bid document. The Chairman's wish prevailed. I and my team, secretary, and all worked the night and weekend. The professional time was our non-billable, fixed salaries as always, in bids that we submitted!
The Boards' decision
Thus we finally bid half the value of what was expected – a smart move by the then Chairman – to keep all content. His premise was that if we lost it, based on my advice that it was not worth the expected value, we simply walk away from a potentially bad investment. If we won it, we acquired it at a price low enough to invest even heavily in it. Of course, the entity had real estate, which to me, for a company which already had real estate waiting to generate cash returns, was not prudent. Well, we lost the bid and walked away happy.
A blue chip and an unlisted giant – saved!
I am pleased that this blue-chip I advised and the apparel company, today's branded apparel giant, who was to be our joint venture partner, was not exposed to what eventually happened with Veytex. The high-profile consortium, including investment and development bankers which bought it, could not run it. The Government took the entity back! In around 2002, a monthly salary bill of as much as Rs. 16 million was being paid to keep idle Veytex staff happy, until the new Secretary to the relevant Ministry, Ranjith Fernando, a banker, a lawyer, and an accountant by profession, spoke with unions and put the matter to rest.
A practical rationale for privatisation
In identifying with the rationale for privatisation, here is a case where the GoSL (Government of Sri Lanka) attempted to exit from its continuing financial obligations to new investments required for modernisation and upgrading of a SOE, which in turn would have been necessary from the private investor to avoid technological obsolescence and to remain viable. It is also an instance where the GoSL exits to provide existing employees with greater job security in the medium to long term through better management of the entity's strategic direction by a technically and financially stronger private investor. Additionally, GoSL's exit could have been regarded as one which financed a voluntary retirement scheme, through cash proceeds of privatisation.
(Across the Years, Beyond the Oceans is a column by Chartered Accountant Ranel Wijesinha to share thoughts and ideas generated by his years of experience in Sri Lanka and beyond the oceans in many parts of the world he has lived and worked)