Time to change working hours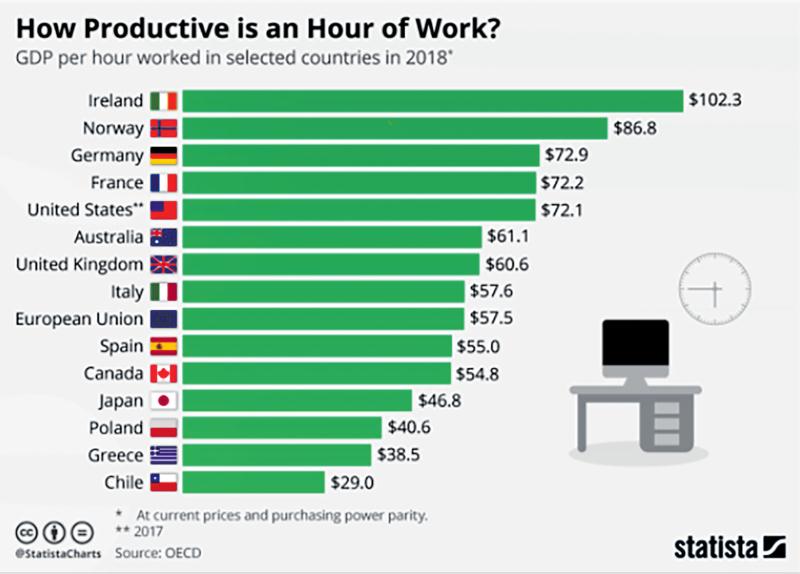 Modern nations have progressively adjusted their working hours in a scientific manner in order to optimise productivity, cost-efficiency, and work-life balance. But Sri Lanka has lagged behind, burdened by poor efficiency, inefficient productivity hampered by too many religious holidays, and knee-jerk decisions that fail to take into account crucial aspects such as poor public safety, gender requirements, a hopelessly outdated public transport system, and the needs of children's education.
Just weeks ago, an ill-considered decision to ease the Covid-19 threat by changing private sector working hours, so that social distancing could be practised on public transport, was hastily withdrawn by the Cabinet, following a storm of protests from women's chambers and rights groups that correctly argued that releasing workers only after dusk was an invitation for gender-based crime and would shatter work-life balance and family harmony. It is time Sri Lanka moves towards a rational and practical regime of working hours.
•Microsoft Japan tested a work week of four days and productivity improved by 40%
•In 2018, a four-day week of work for 240 workers was assessed by New Zealand 's trust management firm, Perpetual Guardian. Workers indicated that work-life balance was better and that their concentration was better. Stress level decreased by 7%
•A 2018 survey of 3,000 staff at the Kronos Workforce Institute found that more than half of full-time employees felt they could do their job in five hours a day. Decisions on working hours shouldn't simply be about the time employees start work and finish work for the day. They should instead be focused on productivity and cost-efficiency from an employer's point of view, and work-life balance from the employee's point of view. (Figure 1 shows productivity per hour in various countries.)
Work-life balance when working from home
The equation of work-life balance can feel like a huge balancing act in the Covid era since technology makes employees accessible 24 hours a day. A study by Harvard Business School found that 94% of employees have worked more than 50 hours weekly. Almost half reported having worked more than 65 hours a week. Researchers agree: The tension of the endless day is harmful. Family links, wellbeing, and overall happiness can be affected. Briefly, work-life balance is the state of equilibrium, in which the demands of the person's work life and the demands of his/her personal life are equally prioritised.
Global context
Sweden has introduced a strategy for improving the balance between work and life for its people, as have Denmark and the Netherlands. For example, it considered flexible working hours and tested sabbatical leave. Their Government has been encouraging men's engagement in housework and the education of children as an effort to curb the work dispute faced mainly by women. Parental leave is designed to allow men to be with their newborn children more. In addition, there is a comprehensive children's care programme in the Swedish welfare system which guarantees a place for all children between two and six years in a public daycare facility. In Japan, suicide is named "karojisatsu" (meaning suicide overwork) due to work stress or overwork. Due to issues related to their working condition in Japan, over 1,940 people committed suicide in 2019. Occupational sudden mortality (karoshi) is a common phenomenon in Japanese culture.
The workforce in Sri Lanka Typical operation hours
Monday through Friday, 8:30 a.m. to 4:30 p.m. is the usual working week for most government offices in Sri Lanka. Post offices and banks usually open on weekdays at 9 a.m. and close at 3 p.m. Several banks are also open on Saturdays and other private sector offices are open on Saturdays until 1 p.m. Some stores are open on weekdays from 10 a.m. to 7 p.m. and on Saturdays until 3 p.m. Most restaurants are open from 8 a.m. to 11 p.m. and bars are generally closed by midnight.
Off time and rest – holidays rules
As with any area, Sri Lanka has a plethora of laws that deal with different types of working hours. The three key laws that specify employees' various working hours, rest periods, and holidays are:
•The Shop and Office Employees Act
•Factories Ordinance
•Wages Boards Ordinance Current challenges to efficiency in Sri Lanka
•Time wasted on commuting to and from work – ancient bus and rail methods result in workers spending up to five hours a day on the road, leaving them with low energy levels that decrease efficiency, apart from negatively impacting work-life balance. Technology has made work-from-home possible for many jobs, but Sri Lanka has been slow to adopt this.
•Employees spend too much time on personal matters while at work – this ranges from phone calls and social media to long tea/lunch breaks and gossiping with colleagues.
•Too many clerks and peons – do you need all those workers in your office? Far too many workplaces are overstaffed with unnecessary minor employees. Organisations need to move towards taking advantage of new technology to reduce cost and enhance efficiency.
•Cigarette breaks – while smoking continues to reduce among the population, far too many male employees continue to take breaks every few hours to smoke, leading to a significant loss in productivity.
•For systematic record management – the filing of records and record keeping is necessary in order to track needed documents and archives. If documents are stored in incorrect files and not put in their proper location, typically in most offices, a lot of time is wasted in the search process. Proper recording and filing is essential for a smooth operation and for saving time avoiding waste of time.
•Too much paperwork – despite technology having made most paperwork redundant, far too many offices continue to rely on physical paper instead of electronic storage. This requires more employees. Sadly, the advent of email has in many cases led to employees spending time writing emails when they could simply walk across to a colleague in the next room.
•Loitering – take a look outside your office window. You'll see many people simply walking around quite slowly, stopping to chat with others.
•Master and slave culture – many bosses continue to favour a culture where workers are not empowered and no decisions are made without the presence of the boss. Much time is wasted waiting for a manager to arrive, when only a simple common sense decision needs to be made.
•Claiming overtime – Sri Lankan organisations pay an extraordinary amount of overtime, and many employees intentionally work late in order to rack up more hours of overtime.
Why is work-life balance vital to society?
Parenting in mind
Each weekday morning, it seems like a major task to feel calm and not be overwhelmed by chaos. Try resetting to start the day as parents with an unhurried, balanced breakfast in a pleasant way. A short, family meal in the morning – just 15 minutes – will reduce tension for everyone. It also ensures that kids are focused. If they cannot meet for dinner because of other obligations, parents have one meal – breakfast – with their kids. Identify quality time in the evening, particularly at dinner. A little extra time now will be very helpful for the parent-child relationship when they grow up.
Flexible working environment/culture
New research has shown that many companies have made their schedules and work places more flexible over the last seven years. Flexibility may be a long-term incentive for workers to stay competitive, and it is clear that if businesses want to retain top talent, they must find ways to deliver flexible job opportunities.
For employees Set your goals
Be mindful to avoid interrupting your main job activities. Each few minutes, don't check your emails and telephones, as these are vital time-consuming activities that divert your attention. Planning and structuring your day will improve job efficiency, which will give you more time to relax outside your workplace.
Physical exercise and meditation
We make room for important things in our lives, even though we're busy. And the first thing we always do is engagement/practice, one of our most important needs when our calendars are complete. Exercise is a strong reducer of tension. This blasts into your body feel-good endorphins. It helps boost the mood and one can even deliver a double punch by adding meditation.
Unplug yourself
Cutting contact from time to time with the outside world helps us to recover from weekly pressures and gives us the opportunity to create more ideas and thoughts. Unplugging can make it easier to practice rather than to check emails at work. It's important to enjoy the time to reset on weekends, and when you're on the clock, you'll feel energised and more focused.
Spend time for yourself and with loved ones
Even though your work is important, it shouldn't be your whole life. You are a person and you must prioritise the activities or hobbies that please you. Create a calendar for family dates while arranging time with your loved ones. It can seem odd to schedule for someone with whom you live one-on-one, but it will make sure you spend good time with them without overlapping work.
Work from home (WFH)
Global staff have already forced technological companies like Google and Apple to operate remotely. Since the advent of Covid-19, several IT departments have been shut down. Remote work provides various benefits and freedoms. But all can't be as successful as they need to be from home.
•The consequences of staff working from home were also unforeseen. The downturn in economic activity over the pandemic is likely to reduce fine particulate air emissions by as much as 60%, according to an IQAir survey
•Gartner reports that three out of four financial managers demanded proposals, after the end of the current pandemic crisis, to permanently shift 5% of onsite staff to a remote work situation A survey by Global Workplace Analytics shows that cost savings are a primary benefit for almost six of 10 employers.
•Office rent and utilities bills – if the bulk of the staff operates at home, companies won't have to pay for bigger facilities, thus saving money on leasing and utilities
•Cleaning and support services – cleaning services would likely decrease dramatically with a minimum number of workers on site.
•Food and beverages cost – when companies have remote staff, they can reduce this expense if they have cafeteria facilities or provide catering during meetings.
•Company tax – three factors decide the tax burden of a company: Payroll, revenue, and property. The adjustments that could have an effect on their tax burden to accommodate remote employees too.
Essential practices for WFH
•Designated location – homes have space constraints, but it's a good idea to have a designated desk at least from which to operate, so that one feels as though one is at work, including maintaining certain hours of work that don't intrude into family life.
•Collaboration – collaboration channels such as Microsoft Teams or Slack are specialised technologies designed to help users work remotely and ensure their full capacity is used by businesses.
•Timetable – scheduled breaks are just as critical as timing or preparation. This helps employees to refresh and get back to work without tiredness.
Conclusion
The Covid era has brought about many new challenges for employers and employees, and changes need to be made to working hours and to maintain work-life balance in working from home. This is a time when careful study and consultation with stakeholders in all sectors is required before changes can be made.
Get rid of the 'cigarette break' culture
Employers need to focus more on optimising productivity from employees and shortening the work week, which would be a win-win situation for both. However, to do so, organisations need to get rid of the "cigarette break-tea break" culture of wasting time and shamming to kill time.
Saturday disruption
More progressive states have found that the five-and-a-half-day work week is very disruptive to both employee productivity and work-life balance. Employees do little productive work on a half-day since they are watching the clock in order to go home. Spending half a day at work on Saturdays also means that they have less than a day-and-a-half break on the weekend to spend with their families. It is much more productive for both the employer and the employee to have a five-day or four-day work week, where employees and managers are far more focused on the tasks that need to be done.
Hybrid model
The pandemic has shown that completely working from home is also stressful. In any case, there are many tasks that are better carried out in an office environment with a team. It is therefore our recommendation that a hybrid model of WFH and office work be adopted, depending on the requirements of the particular industry and company.
Dr. Nicholas Ruwan Dias (ruwan@cogitaro.com) is a Managing Partner of Cogitaro.com and a Digital Architect at Aegon Asia based in Kuala Lumpur. He holds a BSc in Computing from the University of Greenwich, a Master's in Computer Software Engineering from Staffordshire University, and a PhD from the University of Malaya. He is completing a second doctorate (DBA) at Universiti Utara Malaysia.
Niresh Eliatamby (niresh@cogitaro.com) is a Managing Partner of Cogitaro.com, an author, and a lecturer in HR, tourism marketing, and journalism. He holds an MBA from London Metropolitan University and an LLM in International Business from Cardiff Metropolitan University.