Bonsoir Diaries: Centre Bouddhique International at Le Bourget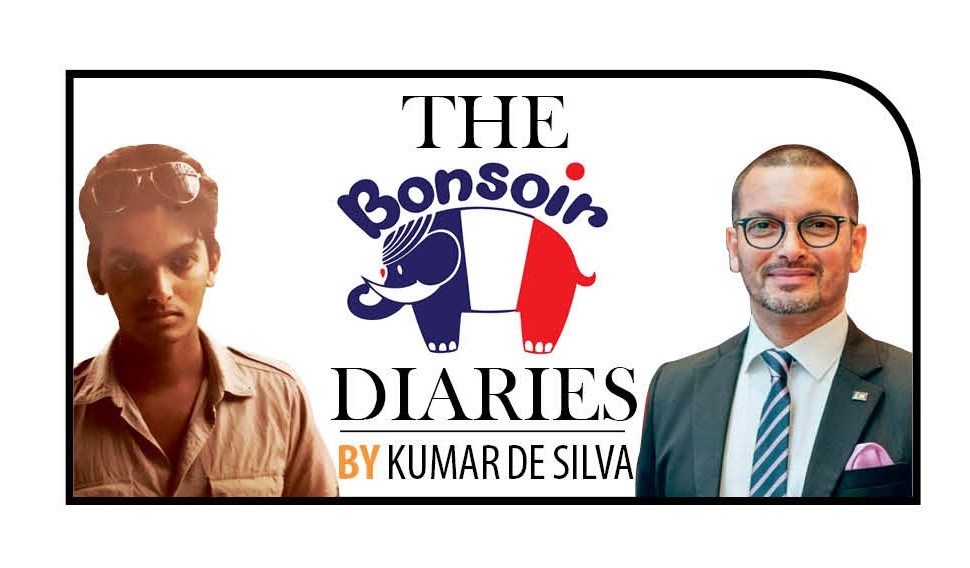 The Ven. Paravahera Chandaratana Thera is the Head of France's International Buddhist Centre and also Chief Sanghanayake of France, appointed by the Malwatte Chapter of the Siam Maha Nikaya. I have known him for nearly three decades now and have seen him grow in his meritorious mission of dhammaduta work throughout France, and extending across Europe at times.
Situated on a 100 perch block of land at No. 7, Cité Firmin Bourgeois near the Le Bourget Airport, 7 km north-northeast of Paris, the International Buddhist Centre currently has three resident bhikkhus and attracts a large and growing number of Sri Lankan and French devotees.
Incidentally, Le Bourget Airport goes on record as being the landing site for Charles Lindbergh's historic solo transatlantic crossing in 1927. Adolf Hitler began his first and only tour of Paris from Le Bourget Airport in June 1940, while 21 years later in June 1961, the Russian ballet dancer Rudolf Nureyev defected at Le Bourget Airport.
Taking top billing today as Europ's leading business aviation airport, Le Bourget Airport hosts the Musée de l'Air et de l'Espace, and the famous Paris Air Show every alternate year.
Armed with a 10-year student visa, Bhikkhu Chandaratana first arrived in France in 1981 as a young student bhikkhu to pursue higher studies in French. Proficient in Sinhala, Pali, and English, he had no problem in pursuing his higher education in Pali too, in Paris.
Bhikkhu Chandaratana first found accommodation in one of the two Vietnamese vihares in Paris, where the Theravada bhikkhus spoke and understood the English language. Ven. Chandaratana Thera says that even at that time, the Buddha dhamma was not totally unknown to the French with the Ven. Prof. Dr. Walpola Rahula Thera's What the Buddha Taught was very popular among the learned in its French version L'enseignement du Bouddha.
Over the years, there arose a pressing need, among the Sri Lankan Buddhist community for the establishment of a Sri Lankan vihare. The project took place under the guidance of Ven. Chandaratana Thera with former Sri Lankan Ambassador to France and UNESCO Prof. Ananda W.P. Guruge playing a pivotal role.
Armed with a letter from Dr. Guruge, Ven. Chandaratana Thera had met with President J.R. Jayawardene in Colombo in 1985. This resulted in the donation of French francs 100,000 for the project, with the assurance of even further support from the president.
This donation, together with the help of numerous other Sri Lankan and non-Sri Lankan devotees led to the purchase of a small house in 1988, in the calm and salubrious surroundings of the Le Bourget Airport. This was finally to be the permanent home of the International Buddhist Centre. Its first two resident bhikkhus were Ven. Chandaratana and Ven. Tawalama Dhammika Theros.
Its official inauguration was on 17 September 1989 with the blessings of the Ven. Balangoda Ananda Maithree Nayaka Thera, Prof. Ananda Guruge, members of the Buddhist clergy resident in Europe and the US, and Buddhist communities of different nationalities.
Since that time, the International Buddhist Centre has not only addressed the social and spiritual welfare of Sri Lankans and French nationals but also those of all other national and ethnic groups living in France. It is today the spiritual home to a large number of Vietnamese, Polish, Laotian, Cambodian, Brazilian, Chinese, Laotian, Thai, Portuguese, and devotees of several other nationalities.
Ven. Chandaratana Thera was a regular guest on Bonsoir over the years. We, in turn, took great pleasure in featuring the International Buddhist Centre's Aluth Avurudu, Wesak, and Poson activities on our show. I remember the Ven. Chandaratana Thera telling us how the colourful Wesak Perahera which parades the streets of Paris each year, is today a much looked forward to event in the town's cultural calendar.
I have been a "visiting devotee" at the International Buddhist Centre and seen it grow over the years. It is today an important centre for those wanting to learn and practice the Buddha dhamma, and provides a suitable environment for meditation.
The Buddha's aim was never to force his doctrine on anyone, not to convert anyone to Buddhism. In keeping with this noble ideal, the International Buddhist Centre today, headed by this Buddha Puthra Ven. Paravahera Chandaratana Thera, and assisted by the Ven. Mapalagama Jinananda Thera, continues to provide teaching to those interested in learning about the Buddhist philosophy and thereby redemption, the Buddhist way.