Bonsoir Diaries: President Kumaratunga in a tête-a-tête française at Temple Trees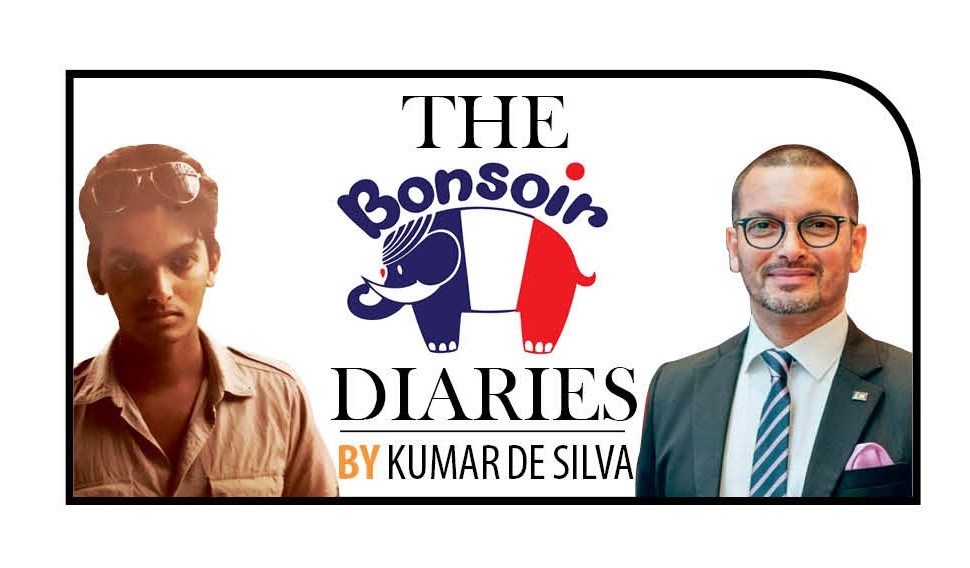 Bonsoir's gallery of guests over the years has been wide and varied. But never have we had a Head of State visit us. With Sri Lanka having a French speaking President in Chandrika Bandaranaike Kumaratunga, it was high time, we thought. And so Yasmin set to work on "Mission CBK" (pronounced Say-Bay-Car in French).
Her first contact was Padma Maharaja, the President's close friend. Yasmin also worked through the routine diplomatic channels. The date was fixed, she had a month to go, and it was time for research and pre-production.
We knew that the President had studied at the Sorbonne in Paris and spoke very fluent French. She was both francophone and francophile, and it suited us just fine. The questions were then sent to Temple Trees prior to the recording.
We were politely told that the President could spend only half an hour with us and so Yasmin, together with Chintha, timed "Mission CBK" to the last minute.
Joining us to go to Temple Trees that morning were also the French Embassy's Cultural Affairs Counsellor Genevieve Berreby, Alliance Française Director Danielle – wife of Gerard Gutle, and Alliance Française Deputy Director Guilhem Beugnon.
Security formalities cleared, we were ushered into one of the salons. Chintha and his assistant Shelton speedily set to work and set up the recording equipment. A quick sound and light check, a quick rehearsal, and we were ready.
A little while later walked in Madame Kumaratunga, cheerful and beaming. She took her seat and started chatting to us in French and English like the proverbial fish in water. It was pretty evident that she was très à l'aise, at ease, in francophone company.
Half an hour passed and the clock struck twelve (noon). She disregarded it and carried on relating stories about her days in France, studies at the Sorbonne, and enjoying her francophone sojourn down the memory lane.
During her student days, one of her favourite spots in the south of France was the Mont Sainte-Victoire in Aix-en-Provence and celebrated for its many appearances in the paintings of Paul Cézanne (1839 – 1906), who could see it from near his house in nearby Aix-en-Provence.
As a young student she had admired its changing colours during the changing seasons and said that this particular mountain had deeply inspired her, bringing her a lot of peace and comfort when needed.
The Montagne Sainte-Victoire is a limestone mountain ridge in the south of France which extends over 18 km between the Départements of Bouches-du-Rhône and Var. Once called the montagne de la Victoire, it later became known by Christians in the Middle Ages as Sainte-Venture. In the 13th Century, a chapel was constructed at the summit and it was not until the 17th Century that the mountain gained its present name.
A massive fire ravaged over 50 sq. km of the mountain's southern face in 1989. Much work has been done since then to promote reforestation, but the total surface area of vegetation, especially conifers, is much less than it was prior to the fire.
Access to the mountain is now greatly restricted during the summer. However, during the periods of free access, the Sainte-Victoire massif is a popular destination for hiking, climbing, paragliding, and to a lesser extent, caving. Around 700,000 walkers reportedly use its paths every year.
To close Bonsoir that day we asked the President which French song she would like us to play for her. Her unanimous choice was Édith Piaf's Padam Padam or L'accordéoniste. 
Édith Piaf (19 December 1915 – 11 October 1963) was a French singer who became widely regarded as France's national popular singer, as well as being one of France's greatest international stars. Her singing reflected her life, with her specialty being of chanson and ballads, particularly of love, loss and sorrow.
I cannot quite remember which one it was but Yasmin played one or the other for sure. Our half an hour rendez-vous went on for one and a half – courtesy Mme CBK.
And so Bonsoir added a Head of State to its massive gallery of guests.