Can't have the cake and eat it too, Verité tells GoSL
• Terms Budget's low tax, high revenue ambitions overly optimistic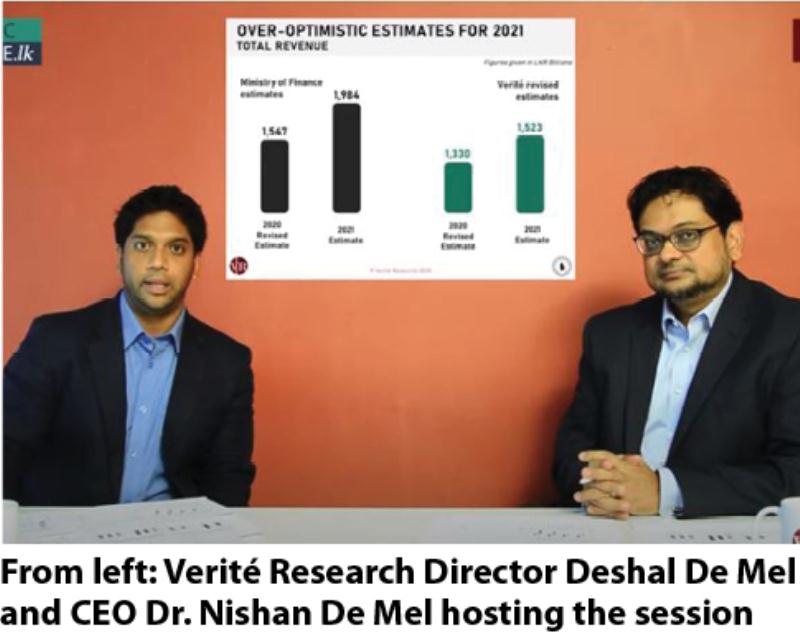 By Dayan Surendranathan
Verité Research (VR) slammed Budget 2021 last week, claiming that the Government of Sri Lanka (GoSL) has presented lofty and overly optimistic estimates on the revenue side despite a commitment to maintaining slashed taxes for the next five years.
Key players in the private sector have praised the Budget for its policy continuity and commitments to maintain slashed taxes for the foreseeable future (five years) that create a favourable environment for business expansion – most notably for those in construction, real estate, and information technology. The rebound of the Colombo Stock Exchange (CSE) last week which threw up its best numbers since 2018 are a testament to this.
However, Verité Research Chief Executive Officer (CEO) Dr. Nishan De Mel was critical of this, asking: "How do you not change taxes for five years and at the same time increase government revenue from under 10% of GDP to over 14% of GDP? The principle that you can't have the cake and eat it too applies here."
He was addressing Verité's series "Budget 2021 Round-up Part 2 – Who knows the numbers?", which took place on 10 December, the day the vote on the Budget was passed on its Third Reading with a two-thirds majority. The series of talks, along with its platform PublicFinance.LK, aims to remove the fog of technical details that obscure the reality of public finance management in Sri Lanka from the layman. Verité says the goal is to aid the wider public (and parliamentarians) to engage in more nuanced discussion around matters of public finance.
Dr. De Mel stated that the Budget reflected a "continued theme of optimism", remarking that optimism is not a bad thing, as long as it does not lead one astray.
"Unwarranted optimism from the Government often leads to overestimation in numbers across the board, and that these overestimations in revenue lead to cuts in government expenditure commitments and increased borrowings."
Verité cited three key issues with the numbers in the Budget, namely, that they are; (i) immaterial, (ii) inconsistent, and (iii) infeasible. The immaterial numbers include 36 missing estimates on revenue for proposals and 32 missing estimates for expenditure (compared to 11 and three, respectively in the 2019 Budget).
The numbers are also inconsistent both across the same document, and across different documents. For example, projected government revenue is cited as Rs. 1,961 billion on page 44 of the budget speech, whereas the figure is cited as Rs. 2,029 billion in the annexure of the same document. Similarly, government expenditure is cited at Rs. 3,525 billion on page 44 whereas it is cited as Rs. 3,594 billion on page 46.
"While the difference may look trivial to the naked eye (Rs. 59 billion), it accounts for 0.3% of GDP – which is not a small number," said VR Research Director Deshal De Mel at the session.
De Mel went on to cite the age-old adage that "in this world nothing can be said to be certain, except death and taxes", adding that in the case of Sri Lanka, he would include a third certainty – that "actual revenue will always be lower than the projected revenue of a government". He pointed out that "even in 2010-12 when Sri Lanka had rapid rates of growth (upwards of 8% of GDP), revenue as a percentage of GDP continued to decline. If we look at the historical data – growth alone – even if it does happen, it will not be enough to create the revenue required." (See graph)
It follows accordingly that the argument that GDP growth will solve the problem of revenue generation is simply not true, said Dr. Nishan De Mel.
Former State Minister of Finance and Samagi Jana Balawegaya (SJB) MP Eran Wickramaratne in Round 1 of VR's Budget 2021 Round-up said that this Budget lays the groundwork not for sustainable business growth, but for "crony capitalists" to take advantage of economic conditions.
Problems with Sri Lanka's Budget and its questionable numbers have not gone unnoticed amongst international credit rating agencies such as Fitch, Moody's, and S&P either, said Dr. Nishan De Mel, saying the agencies have been "in a bad Moody".
Citing lack of robust fiscal consolidation measures, depleting foreign exchange reserves (down to $ 5549 million in November 2020), debt overhang, excess liquidity, and reduction in economic activity in the face of Covid-19, together with rising non-performing loans (NPLs), and import restrictions, Verité said the numbers in the Budget, even if they are present or consistent, are simply not realistic.
While the GoSL predicts total debt to fall to 75% of GDP by 2025 in Budget 2021, Verité estimates it to rise to 115.6% of GDP based on figures released by the Central Bank. Earlier this week, Citibank slammed the GoSL with their report titled "Denial is not a strategy" for fiscal consolidation, and that Sri Lanka will have to eventually come to terms with the reality and scale of their debt problem by looking to the International Monetary Fund (IMF) for debt restructuring support. Fitch and S&P also downgraded Sri Lanka's credit rating to "CCC+" late last week over the proposed budget.
However, State Minister of Finance and Capital Markets and Public Enterprise Reforms Ajith Nivard Cabraal slammed these sovereign rating cuts and criticised of foreign agencies on Friday (11).
"It is very likely that investors who have placed trust in Sri Lanka's potential will not be distracted by ill-advised and subjective comments made by hostile external spectators, politically motivated elements, and biased agencies that are operating under an 'independent' label," he had said.
However, it is worth mentioning that Cabraal made similar comments in January of 2009 as the Central Bank Governor, stating that there was "no cause for alarm and thus the need for IMF support does not arise" – just six months before Sri Lanka resorted to an IMF loan worth $ 2.6 billion.
Verité's talk concluded with the demand for more realistic assumptions on (i) GDP growth, (ii) revenue and interest estimates, and (iii) depreciation effect on currency.
Verité Research, through its new platform PublicFinance.LK, has released a report titled "Public Report on the 2021 Budget: Assessment of the Fiscal, Financial, and Economic Assumptions used in the Budget Estimates", which carries in detail its analysis of the 2021 Budget, accompanied by what it cites as its own "realistic" projections for revenue, expenditure, budget deficits, debt sustainability, and other key figures presented in Budget 2021.