CPC daily revenue reduced by over 60% in March
Ground and air travel restrictions hurt fuel supplier


Only 10-15% of a normal day's requirement being discharged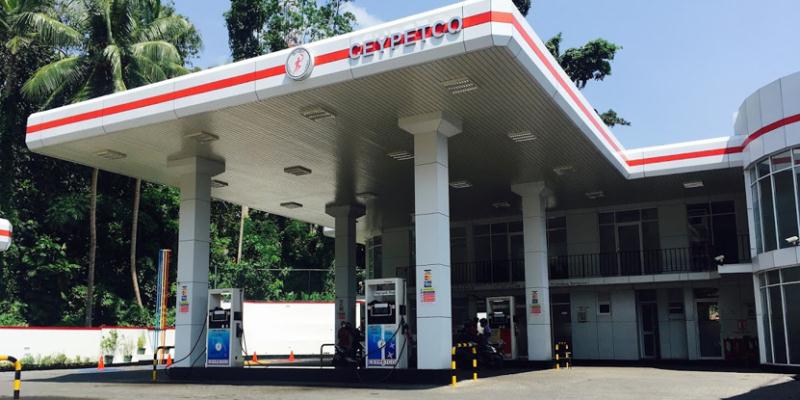 By Madhusha Thavapalakumar
Sri Lanka's state-owned fuel supplier, Ceylon Petroleum Corporation (CPC) has had a high percentage of its daily revenue cut due to the air and ground travel restrictions brought about by the Covid-19 pandemic.
According to CPC Chairman Sumith Wijesinghe, as a result, only 10-15% of a normal day's requirement is being discharged from their refineries during the curfew days and this has resulted in CPC's revenue dropping by over 60% during the first three weeks in March.
"Usually, we send out about 2,300 metric tonnes of petrol and 4,300 metric tonnes of diesel per day throughout the island. It has now been slashed to 150 metric tonnes of petrol and 500 metric tonnes of diesel," Wijesinghe told The Sunday Morning Business last week.
Furthermore, aviation fuel supply has also been slashed by over 80% with just 200-250 metric tonnes of aviation fuel being discharged on a curfew day, as opposed to 1,200 metric tonnes of fuel on a usual day.
As a result, Sri Lanka has ample stocks of petroleum both in Muthurajawela and Kolonnawa refineries to supply motorists for weeks, Wijesinghe disclosed.
"The CPC plans the country's requirement for the year in January and places orders. The curfews have resulted in lesser demand despite panic buying during non-curfew hours. Therefore, we have an oversupply of fuel," he emphasised.
During a press conference last week, Power and Energy Minister Mahinda Amaraweera noted that a few more oil tankers are reaching the Colombo Port in the coming days and that the CPC has sufficient stocks of petrol, diesel, and kerosene for 20 days.
Ground restrictions were initially imposed on 18 March, with the Government declaring curfew in the Puttalam District which was eventually imposed on the whole island during the subsequent days. Even during the hours when the curfew was lifted, travelling between districts has been restricted.
In addition to this, the Government also laid restrictions on air travel by announcing a complete closure of the Bandaranaike International Airport (BIA), the country's main airport, with effect from 17 March until further notice, to contain the further spread of the coronavirus within the country.
However, this decision was partially revised on 22 March as the Government permitted departure flights to be operated from BIA.
SriLankan Airlines, to which the CPC is an aviation fuel supplier, is operating a limited number of outbound flights due to the pandemic.
 Both ground and air travel restrictions are unlikely to be lifted anytime soon, with no definite date given, at the time of publishing, for lifting of curfews imposed in areas of the whole country, especially several districts that are considered "highly risky", and also for the lifting of restrictions on inbound flights into the country.
Meanwhile, the Government Medical Officers' Association (GMOA) on Wednesday (25) issued a statement, emphasising that social distancing should be carried out until 7 April, to ensure the pandemic is locally well contained.
CPC's losses rose to Rs. 21,178 million in the first four months of 2019 and the operational loss also increased to Rs. 11,143 million, according to the Mid-Year Fiscal Position Report released by the Ministry of Finance.
Co-Cabinet Spokesman Dr. Bandula Gunawardana recently noted that the CPC's debt stood at Rs. 600 billion in 2019 and that it had recorded an operational loss of Rs. 106 billion in 2018 and Rs.12 billion in 2019. Furthermore, he added that the Government would keep oil prices fixed and build a Rs. 200 billion fuel price stability fund, which will be used to repay CPC debt.