Customs to be compensated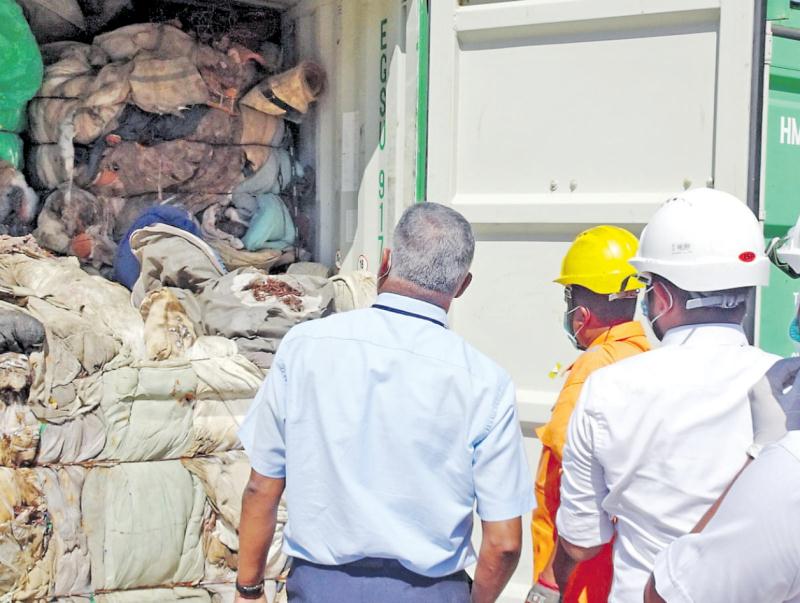 Over 200 containers of municipal waste from a foreign land flooded the Port of Colombo in 2017 when it was illegally imported to the country. Now, Sri Lanka Customs is vying to obtain compensation from the culprits.
In 2017 and 2018, a total of 263 containers full of waste material from the UK arrived at the Colombo Port. At the time, speculation was rife that these containers contained hazardous waste material such as medical waste including corpses.
Superintendent of Customs Lal Weerakoon, however, clarified that there was no such medical waste.
"The containers hold municipal waste, such as household waste. There is no medical waste. Earlier, there was an allegation to this extent, but upon inspection, we could not find any medical waste. Those allegations are not confirmed. Allegations of there being dead bodies are completely false. They were baseless media reports."
Last Saturday (26), the Customs Department was able to have 21 of these containers reshipped to England while the remaining 242 were under lock and key following a court order.
"There were 263 containers altogether which arrived. We have sent 21 back to England and there are 242 remaining. Of those, 130 have been stored at the Board of Investment (BOI) Katunayake Free Trade Zone (FTZ) premises while the other 112 are inside the Colombo Harbour within various terminals. The remaining containers are part of a court case in Sri Lanka now. The court has ordered to retain the containers at the Harbour and the BOI premises in Katunayake."
Weerakoon noted that this was part of an ongoing international racket to dispose waste from developed countries and Sri Lanka had fallen victim to such a smuggling scam. He explained that an individual with a private company in the UK had sent the waste containers to a relation who had set up a separate private company in Sri Lanka.
"This was a smuggling attempt done by a private company. One of the companies is registered in the UK while the brother or another relation had set up a second company in Sri Lanka. The company in the UK has shipped the garbage to the company in Sri Lanka. This had nothing to do with our two countries."
He elaborated that waste disposal incurred heavy expenses for such countries and therefore, such scams were profitable.
"The racket here is that the service of the disposal of waste has a high profit margin, especially in the UK where waste disposal is a costly matter. So, these racketeers smuggle the waste out of the country promising to dispose of it. This is an international smuggling racket and there are poor countries around the world that will accept such waste for money."
He said that while compensation was still being negotiated, British authorities had agreed to accept another 130 containers, adding that the Customs Department has not yet calculated the compensation as negotiations have not progressed thus far.
"They (British authorities) have agreed upon the need for compensation. They have also agreed to receive another 130 containers; but all are still being negotiated. There are a lot of parties involved in this, including the High Commission as well as environmental organisations. So, their input would also be needed when calculating compensation."
Nevertheless, he said that they were now facing a practical issue of needing additional containers as the waste could not be compressed to be reloaded and fitted into their original containers. Most of these containers had been unloaded and emptied to examine their contents, and now the Department is facing an issue with reloading the containers, as they do not have a compression mechanism.
"As a result, there is a need for additional containers. Now we are negotiating with the shipper to get more containers. The 130 containers that are to be sent will have to be increased."
Meanwhile, Sri Lanka Customs Media Spokesman Sunil Jayarathne said that they are waiting for the court proceedings to conclude to reship the remaining waste containers.
"We are waiting for the court case to conclude. They have verbally told us that there are no barriers to re-export the containers, but there are some legal proceedings remaining. After these legal processes are completed, we will take a decision to re-export."
He noted that the Basel Convention had been violated and that there was precedence in other countries to consider when seeking compensation. In the meantime, he said that they are looking into what action can be taken with regard to compensation as well as penalising the culprits under the provisions of the Customs Ordinance.
"We have to look at other countries as well, as there is precedence. They have imported these containers, grossly violating the international Basel Convention and other rules and regulations."
He said that diplomatically, the matter of penalising the private company had been condoned by both the British and Lankan High Commissions.
"The compensation will be sought from the private company. We have informed the British High Commission in Sri Lanka and our High Commission in England, of our stance, and there are no particular objections from these authorities. So, after the court proceedings are over, we will look into the matter of compensation."
• 21 out of 242 containers sent back to the UK
• Compensation sought from private company