From travel couple to travel family
Sri Lanka's number one: Travel with wife
We've followed them on their journey for years, the husband and wife duo Kasun and Chamri as they traveled across the island sharing their experiences with Sri Lankan travel enthusiasts.
The couple have since become a household name as their community grew, amassing an incredibly engaged audience tuning in without fail to see what the two have been up to. 
While we've come to know them as the travel with wife couple, the two recently welcomed a brand new addition to their tight knit unit – their beautiful daughter Elina – making the transition from travel couple to travel family.
Elina recently turned one year old, and Kasun and Chamri shared with us the next step in their travel journey as brand new parents and travel influencers is how they hope to take Elina on their adventures as they continue to share their story with their fans. 
Speaking to the two, they shared that they're currently going through a transitional period right now as first time travel parents. "We've been engaged in the planning stages for some time now, figuring out how best to make things comfortable for Elina as we travel," they said, adding: "It's just the two of us and Elina, and we're all new to this and we have to figure things out as we go. But we are determined to create positive travel experiences for Elina."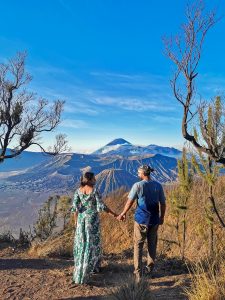 They said that they want Elina to grow to love nature and develop an affinity to it. Having gone on just a couple of trips with her, they said that they're not too worried because she's taken to it like a fish to water.
However, they added that it has been a challenge, as one would expect with a one-year-old child – they can no longer hop on a trip impulsively, they've got Elina to think about, but they said that this has opened up an entirely new world for the two of them. "Since we had Elina, a lot of our fans were curious about how we'll include her in our travel journey," they said. To their surprise, the duo said that what they didn't expect was the sheer number of parents who started tuning in to see how a family travels with a toddler.
"We didn't quite expect it but with Elina, but by some happy coincidence we've gained a new set of followers looking to experience how a family travels with their baby. There's a lot that goes into it and we're glad we get to contribute and share our experiences as we go along." the duo shared.
They said that their first overseas trip with Elina is also in the works and they're going to collaborate with another travel family with their young child to go on a tour in Singapore. "It'll be good for Elina to have some company and we'll have the opportunity to have a shared experience with another couple who are pretty much in the same boat as us," they said. 
"It's so endearing to see our audience so invested in Elina and our family," said Kasun and Chamri, saying that for Elina's first birthday when their fans wanted to send her some gifts, they launched a tree planting project where they would all plant a tree in her name, and by her second birthday they hope to have planted over 10,000 trees. You can engage with the "trendeka" initiative via its webpage https://trendeka.lk.
The "Travel with Wife" couple have certainly not been idle during the pandemic either as they also launched their podcast "Hi travelers" which has become Sri Lanka's number one podcast with travel enthusiasts tuning in to hear the behind the scenes tales of their many travels.
"Our vlogs, on Instagram and even on YouTube tend to showcase the most beautiful moments from our travels, there's little opportunity to document all the mishaps and unfortunate incidents that we experienced and overcame behind the scenes. The podcast gives us the space to share these undocumented tales with our fans," the duo shared, and their thinking was right on the money as they've done six episodes so far and every single one has been a smash hit.
With their many projects underway the couple expressed their gratitude to everyone who has supported them all this while, encouraging any and all lovers of travel to join in on their journey as they set off on more and more adventures in the future.
Instagram: travel_with_wife
YouTube: Travel With Wife