Increasing renewable energy generation | Tripped off by limited grid capacity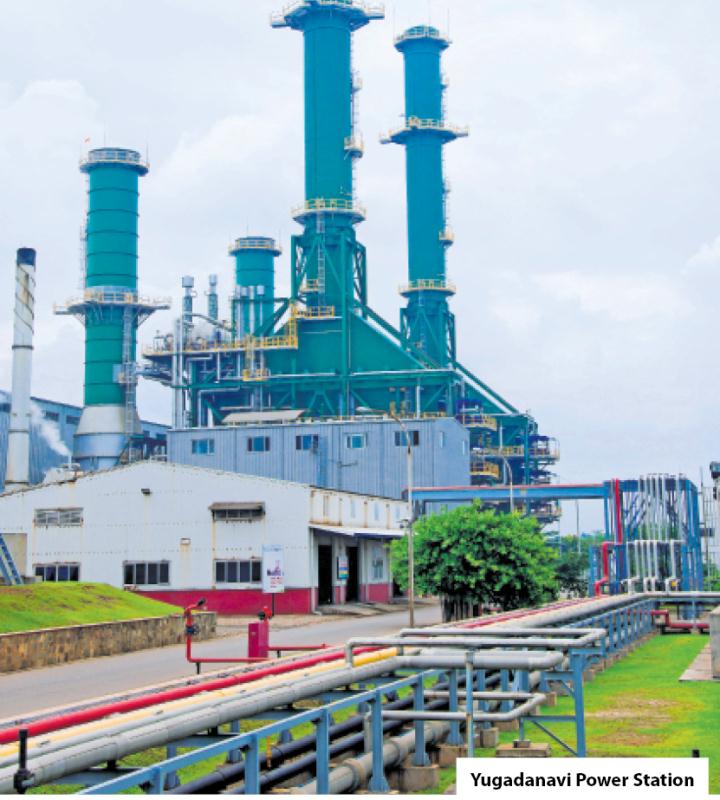 By end-2018, the total installed capacity of Sri Lanka's power system was approximately 4,048 MW with a total dispatchable capacity of 3,464 MW. The maximum demand recorded in 2018 was 2,616 MW and total net generation was 15,305 GWh.
Throughout recent years, the country's power system has operated maintaining around a 20% share of renewable energy.
The renewable energy share is, however, expected to be increased to 38% by 2025 and 65% by 2030.
The conversion from traditional power generation to renewable energy has been given priority in President Gotabaya Rajapaksa's election manifesto "National Policy Framework, Vistas of Prosperity and Splendour" too, where he outlines the necessity to enhance the contribution of hydro and renewable energy to 80% of the overall energy mix by 2030.
Meanwhile, many other countries are converting to more renewable energy sources.
Globally, China is leading investments in renewable energy, where its renewable power capacity now surpasses its new fossil fuel and nuclear capacity.
In the US, a number of states set mandatory targets for the percentage of renewable power generation – for example, the State of New York set it at 30% by 2015 and California at 33% by 2020.
Contrary to large centralised power plants, many of the renewable energy generators feed into the local distribution grid, either at low voltage (LV), which is mostly for PV (photovoltaic), or at a medium-voltage (MV) level, which is mostly for wind power.
Traditional distribution grids are designed to cope with the existing and expected future power flow of connected consumer loads but were not designed for decentralised feed, which can sometimes be much higher than the load power.
As the apex body of the country sets higher targets in renewable energy, the expansion or the adaptability of the existing system is now being discussed.
Looking at expansion
Speaking to The Sunday Morning, Power Ministry Spokesman and Director – Development Sulakshana Jayawardena explained the ongoing efforts by power sector experts attached to the Ministry and the Ceylon Electricity Board (CEB) to expand the existing grid capacity to allocate more space for renewable energy.
"Renewable energy is a variable energy source and to maintain the stability, reliability, quality, and supply of the system, there are certain technical requirements. You can't add more and more renewable (sources) to the grid substation if there is no capacity. When it comes to the grid substations, there are transformers and these transformers have technical capacities," he explained.
Elaborating further, Jayawardena noted that the capacity can be expanded by installing more transformers and at present, the CEB is exploring the possibilities for augmentation.
"We have already augmented a dedicated grid substation only for the absorption of renewable energy and there are other ongoing measures to enhance the grid capacity," he said, pointing out that there were other certain infrastructures that need to be upgraded, such as transmission lines and accessories, in parallel to upgrading the existing system.
"The Government is targeting getting more renewable sources to the system. Grid expansions should be done in order to provide facilities for more renewable energy to be added to the national grid," he added.
According to CEB's Long-Term Generation Expansion Plan 2020-39 (LTGEP 2020-39), by 2027, it is estimated that day peak demand would exceed night peak demand. The 20-year annual average growth rate of energy demand is forecast at 4.9%, while peak demand annual growth rate is forecast at around 4.6%.
Hydropower, which provides 6% of the total primary energy supply, is the main indigenous source of primary commercial renewable energy in Sri Lanka. The estimated potential of hydro resources is about 2,000 MW, of which a significant amount has already been harnessed.
Apart from these, there is considerable potential for wind and solar power development as well.
The first commercial wind power plants were established in 2010 and the total capacity of wind power plants by end-2018 was 128 MW.
The 100 MW wind farm in Mannar Island is at the implementation stage. Steps have been initiated to harness the wind and solar potential in Sri Lanka in an optimal manner.
The first commercial solar power plants were commissioned in 2016 and the total capacity of commercial solar power plants by end-2018 was 51 MW, and nearly 170 MW of solar rooftops were also connected by end-2018.
Scattered developments of small-scale solar power plants have been initiated as were feasibility studies in that regard to develop solar power plants adopting a park concept, according to the CEB.
By the end of 2018, 37 small-scale solar PV parks of 1 MW were awarded to private investors for development and another 90 small-scale solar PV parks of 1 MW were under evaluation to be awarded during 2019.
Sri Lanka's electricity requirement has been growing at an average annual rate of around 5-6% during the past 20 years, and this trend is expected to continue into the foreseeable future.
Grid integration
Meanwhile, possibilities are currently being explored on interconnecting the electricity grids of India and Sri Lanka.
The two countries are currently exploring three options along with the cost of each alternative.
The two Governments signed a Memorandum of Understanding (MoU) in 2010 to conduct a feasibility study for the interconnection of the electricity grids of the two countries.
This feasibility study was jointly carried out by the CEB and Power Grid Corporation of India Ltd. with the main objective to provide the necessary recommendations for the implementation of a 1,000 MW HVDC (high-voltage, direct current) interconnection project.
In 2002, Nexant, with the assistance of USAID (United States Agency for International Development), carried out the prefeasibility study for electricity grid interconnection.
In 2006, Power Grid Corporation of India reviewed and updated the study with USAID assistance. Various line route options and connection schemes were analysed during the prefeasibility studies.
Technical, economical, legal, regulatory, and commercial aspects in trading electricity between India and Sri Lanka were also considered.
As stated in the LTGEP 2020-39, the route option was selected for the initial feasibility study consisting of a 130 km 400 kV HVDC overhead line segment from Madurai to the Indian coast, a 120 km 400 kV under-sea cable from the Indian coast to the Sri Lankan coast, a 110 km 400 kV overhead line segment from the Sri Lankan coast to Anuradhapura, and two converter stations in Madurai and Anuradhapura.
It was further stated that during the latest working group discussions between the countries, initiated in 2017, it was proposed to shift the HVDC station in Sri Lanka from Anuradhapura to Habarana.
Accordingly, three alternatives of the interconnection route were identified. The cost of each alternative for each technology for the combined development of stages I and II was estimated and power flow studies were also conducted by both India and Sri Lanka.
The feasibility study is yet to be initiated once an option is finalised.
Costly expansions
Nevertheless, the engineers attached to the CEB are claiming that expanding the grid capacity is highly expensive.
Explaining further, a senior engineer, who wished to remain anonymous, told The Sunday Morning that even though there were much more discussions with regard to increasing renewable energy, as these sources are freely available throughout the year, energy production through the processing of renewable energy is highly expensive.
Shifting to renewable is good for rich countries such as Germany which have interconnected grid systems, but in Sri Lanka, the system needs firm energy to maintain stability, he explained.
He went on to say that the entire system cannot be dependent only on renewable energy as wind power could only be harnessed for six months of the year while solar is also not enough to maintain a stable system.
"Therefore, the system that suits the country is a mixed system, where around 20% could be renewable energy," he explained.
Meanwhile, when contacted by The Sunday Morning, CEB Chairman Eng. Vijitha Herath stressed that the entire system was dependent on supply and demand.
"At present, the peak demand is around 2.7 GWh and out of that, thermal (coal) supplies a total of 11.23 GWh, thermal (oil) 17.77 GWh, hydro 15.38 GWh, and wind 0.73 GWh."