Sunny Side Up
Udayanga's message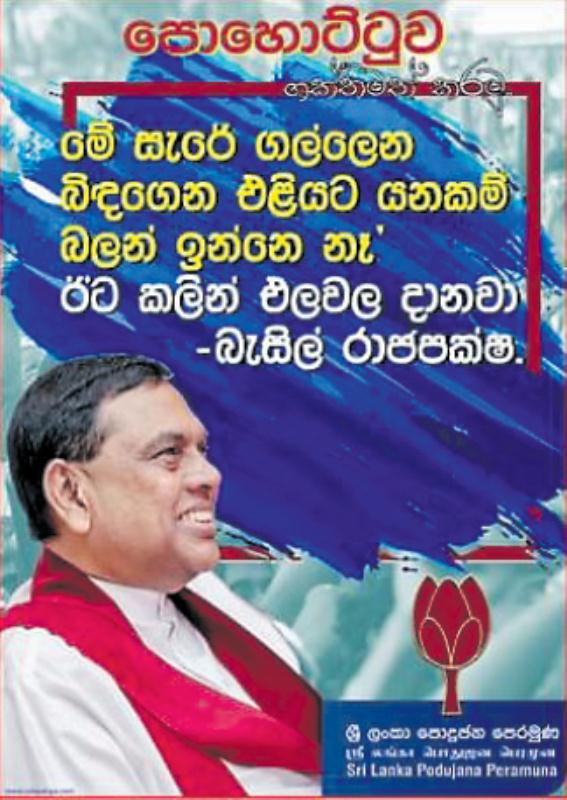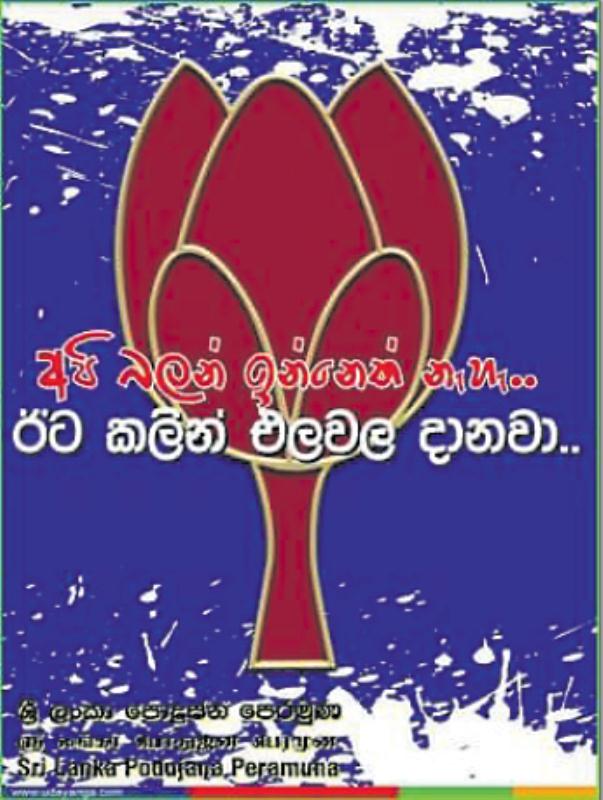 Sri Lanka's former Ambassador to Russia Udayanga Weeratunga, who is also a close relative of the Rajapaksa family, last week aligned himself with Sri Lanka Podujana Peramuna (SLPP) National Organiser Basil Rajapaksa.
At a time when several allied parties of the governing SLPP are critical of certain actions of the administration – in some instances expressing criticism over the conduct of SLPP seniors, especially Basil – Weeratunga last week published several posts on his Facebook page aligning himself with Basil.
"This is a government we formed with great difficulty. I will say this one thing. If anyone tried to break away and destroy this Government, we will not allow it. We will not wait for anyone to break away this time. If that is the case, we will chase them away," Weeratunga had stated in a post on 28 February, quoting a statement made by Basil Rajapaksa. On 1 March, Udayanga had posted another comment in response to a post critical of the SLPP.
"The hyena is an African wild animal. A hyena usually hovers around, following lions, because it cannot hunt on its own. These fellows wait for the lion to catch prey and then try to steal away a small portion of it. But a hyena will also try to hunt the lion if it gets such a chance. However, a hyena cannot make any change in the jungle, apart from trying to live for the day," the post had stated.
---
Ministry Secretary bowled out?
News of Secretary of the State Ministry of Primary Healthcare, Epidemics, and Covid-19 Disease Control Dr. Amal Harsha de Silva being removed from his office last week over administering the Covid-19 vaccine to former Sri Lanka cricket Captain and MP Sanath Jayasuriya caught the State Minister by surprise, as there was no official communication of such a move.
Dr. de Silva's removal from office was made public by Public Service United Nurses' Union Head Ven. Murththettuwe Ananda Thera.
The Thera had told the media last week that the State Ministry Secretary was removed from office over the vaccine provided to Jayasuriya outside of the previously prepared lists of persons to receive the vaccine.
Dr. de Silva had been appointed as the Secretary to the State Ministry of Rural Areas Development, Promotion of Domestic Animal Husbandry, and Minor Crop Cultivation.
However, State Minister for Primary Healthcare, Epidemics, and Covid-19 Disease Control Dr. Sudarshini Fernandopulle noted that she was unaware of the reported removal of her Ministry Secretary for administering a Covid-19 vaccine to Jayasuriya.
---
Wijeweera's new step
Uvindu Wijeweera, son of the late Founder of the Janatha Vimukthi Peramuna (JVP) Rohana Wijeweera, has taken steps to engage in a new political journey to coincide with the 50th anniversary of the 1971 insurgency.
Uvindu has decided to meet with the pioneers of the 1971 insurrection who had worked alongside his late father.
"There are only a few more days to mark the 50th anniversary of the armed struggle that was launched by undertaking a revolutionary path instead of a namesake democratic path to defeat imperialism and capitalism to establish equality," Uvindu had stated on Facebook.
He had further noted the greatness in the actions of a group of youth at the time to sacrifice their freedoms for the sake of the majority of oppressed people in the country.
---
Stock marketers meet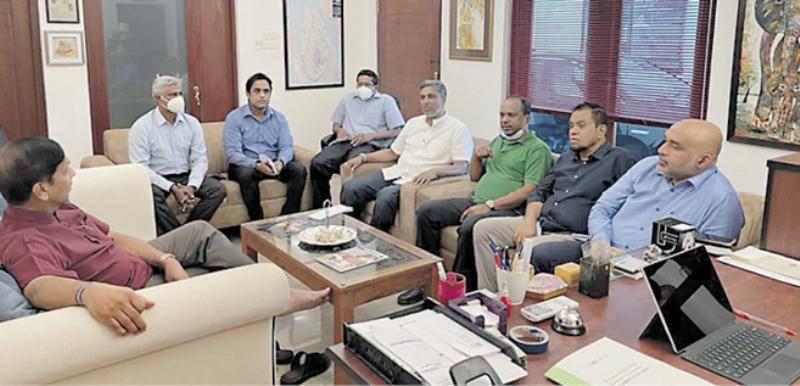 A group of stock marketers in discussion with State Minister of Money, Capital Market, and State Enterprise Reforms Ajith Nivard Cabraal recently. Among there participants were M.F.S. Haq, Mushtaq Fuad, Imtiyaz Buhardeen, Shashimal Fernando, Nimal Perera, and Ramanan. Speaking on the discussion, Buhardeen tweeted: "7 of us HNWIs met Minister Cabraal to discuss CSE market-related general matters, how to further develop the market sentiments, and exchanged ideas as investors we have our views to strengthen the market. We also agreed to have a get together soon with investors for a Q&A session" (sic)
---
Zeylanica costs Rs. 87,000 lakhs?
The controversial tree, Crudia Zeylanica, which resulted in the alteration of the proposed Central Expressway, is to cost the Government Rs. 87,000 lakhs, according to Highways Minister Johnston Fernando.
Fernando made these claims addressing a public gathering, and further noted that the monies spent on constructing one kilometre of the highway according to its outlined plan would be much less than the altered route.
---
Running amidst hoots
Former Southern Province Chief Minister and current governing party MP Shan Wijelal Silva last Monday (1) was faced with an embarrassing situation when he was hooted at by a group of protesters in Galle.
The incident had taken place during a protest held outside the Galle District Secretariat while several meetings were ongoing at the secretariat premises.
When the MP was trying to leave the secretariat premises, his vehicle was blocked at the entrance. With the crowd outside the premises starting to jeer loudly, Silva decided to get out of his vehicle that was unable to move forward. However, amidst the jeering crowd, Silva had to quickly walk towards the road and make his way out of the situation in a three-wheeler.
---
Knock em down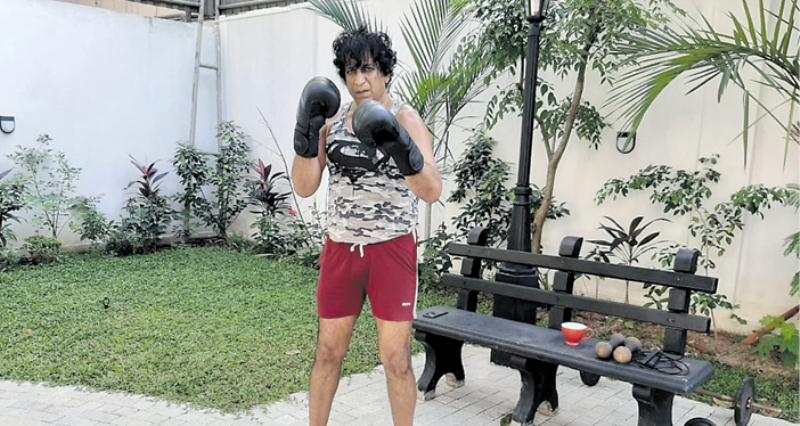 Attorney General Dappula de Livera still puts time into maintaining his boxing form, as evidenced by this photo that was being widely shared among the legal community last week
---
The fast runner
Sports Minister Namal Rajapaksa's running prowess was highlighted last week by Prime Minister Mahinda Rajapaksa.
He observed that Namal runs faster with the responsibilities of his ministry portfolio than he did in the rugby grounds as a player.
The Premier made this observation while highlighting the importance of engaging in sports in schools.
"I believe Namal has more strength to work harder because of his involvement in sports as a student in school. Regardless of my post, I always went to watch all of his matches. The experiences we gain at the ground help us make our lives more successful," Rajapaksa said at the launch of the "Gamata Pitiyak" (A Playground for the Village) programme. Under the programme, which is a concept of the Sports Minister, 332 grounds in rural areas would be developed.
---
LG member's predicament
The electoral meeting held last week of the Sri Lanka Podujana Peramuna (SLPP) Katana electorate, under the patronage of State Minister Arundika Fernando, took an interesting twist, leaving many participants first in shock and later in agreement.
Local government member Sisira Fernando, who addressed the gathering, decided to take a stand against the actions of the current Government.
The SLPP local government member had slammed the party, saying there was no point of a political party that cannot safeguard the SLPP organisers. He had further claimed that the present situation had resulted in him being unable to visit his village or constituency without facing criticism.
---
Ananda Thera targets Presidential Secretariat
Ally of the Government, Abhayarama Temple Chief Incumbent Ven. Muruththettuwe Ananda Thera last week targeted a senior official in the Presidential Secretariat.
The Thera had charged that no one will be able to govern the country until this senior official held the office he is currently representing and added that there needed to be a change in the respective office if the country was to be governed properly.
Ven. Ananda Thera had made this observation during a news conference at the Abhayarama Temple last week. According to him, forces that worked hard to bring the present Government into power are now thoroughly disgruntled. The Thera had further noted that the country was faced with pathetic issues and that there was a sense of anarchy in the country.