The Alliance Française de Kandy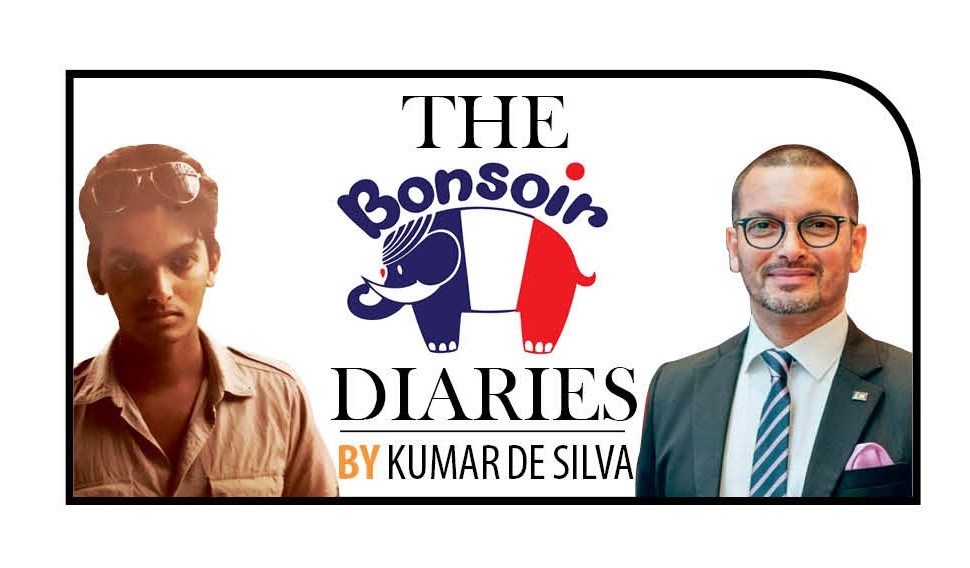 "The Bonsoir Diaries" by Kumar de Silva is a cocktail of chapters, bursting at their seams with pithy asides, a trail of faux pas, and tit-bits from behind the scenes, marinated with anecdotes and drizzled with nostalgia, revealing everything you never saw on your favourite television show… from the '80s through the '90s into 2000.
The Alliance Française de Kandy is the second oldest French language teaching institution of its kind in Sri Lanka. It has been functioning in the central hill capital since 1967.
Much to my surprise, I learnt from celebrated architect, the late Minette de Silva that in its early years, the Alliance Française de Kandy was even located at the Ulpangé, or the Queen's Bathing Pavilion,  just opposite the Dalada Maligawa. In a special Bonsoir programme to celebrate the 25th anniversary of the Alliance Française de Kandy in 1992, Yasmin and I joined Minette on a journey back in time as the Bonsoir cameras followed her around the Ulpangé.
And there she was…this grande dame of Kandy, the fall of her sari casually pulled across around her slender frame, her grey hair gently blown across her face by the breezes that swept across the Kandy lake, as she wafted around this ancient edifice, ethereal-like.
Minette's father was a politician and represented Kandy in Parliament, serving for a while as Minister of Health, while her mother was of Dutch origin. Her brother Frederick was coincidentally Sri Lanka's Ambassador to France.
Dennis Sharp in a 14 December 1998 article to The Independent said: "…She continued to travel extensively in Europe where she made many contacts with architects and artists ranging from Jane Drew and Denys Lasdun to Henri Cartier-Bresson, Laurence Olivier, Picasso, and Feliks Topolski. She created a considerable impression, her fragile, slim Asian beauty enhanced by the wearing of colourful national saris. It was while attending the Congres Internationaux d'Architecture Moderne meeting in Somerset in 1947 that she met Le Corbusier with whom she struck up an enduring friendship…"
Crowning a long and illustrious career, Minette de Silva was decorated by the Government of France as Officer of the Order of Arts and Letters.
French is taught as a subject for the Advanced Level (A/L) examination in several schools in Kandy. The student numbers taking French show a steady increase each year. French has continued to be taught at the University of Peradeniya for many years and is today offered by students as a subject for the General Degree. The teaching team comprises Dr. Kusantha Kariapperuma (who incidentally taught me French at the University of Kelaniya in 1981) and Dr. Jacques Soulié. With Kandy occupying a significant position in Sri Lanka's tourist trail, the French language also has great commercial use in these parts – hence, the important role played by the Alliance Française de Kandy.
Since its early days, Bonsoir has had a long association with the Alliance Française de Kandy. At that time, it was in a spacious old house at No. 412, Peradeniya Road and was a popular landmark in Kandy, with its bleu-blanc-rouge French national flag flying at full mast. This was even before the new and alternate road, William Gopallawa Mawatha, came into being. All traffic into Kandy and beyond had to pass the Alliance Française and visibility was thus at its peak.
Many years down the line, today, No. 412, Peradeniya Road is still a very popular landmark and continues to attract crowds. It is now a much-visited, gastronomic venue – KFC, Kandy!
The Director at the Alliance Française de Kandy during its 25th year was Gérard Petitqueux. Annelie, his wife, also played a very supportive role in its wide-ranging cultural activities. I remember Directors like Fabrice Mongiat, Kush Herath, and, more recently, Dr. Soulié who have all, over the years, contributed to the success of the Alliance Française.
Similarly have been the different committees over the years and their Presidents such as Prof. Kapila Dahanayake, Prof. Ashley Halpé, Dr. Patrick Nugawela, Mr. Aldo Perera, Prof. C.B. Dissanayake, Dr. Mark Amerasinghe, Mrs. Vagdevi Fernando, Prof. Veranja Karunaratne, Dr. Pradeep Ruwanpura, and Prof.  Rathnayake Bandara.
"Chez Ronnie" was the well-patronised cafeteria run by Ronnie Mathew. Just in front, across the courtyard, was the well-stocked library over which the no-nonsense librarian Namal Jayasekera presided, with her agasthi maalé and all. Students behaved themselves very well in the library.
Alliance Française de Kandy has also had its students' committees whose members played a very active role in organising various activities. The President of Students' Committee during the late 80s was the active and energetic Miss Ayesha Imbuldeniya, now Mrs. Ravana Wijeyeratne. Together with her equally dedicated committee comprising Asela Wevita, Yohan Ziard, Sunil de Silva, Sarath Rupasinghe, and Waruna de Silva, among others, live-wire Ayesha was responsible for many cultural activities during her time.
Incidentally, Dr. Mark Amerasinghe and Madame Bridget Halpé are two names that instantly come to mind when one recalls cultural activities at Alliance Française de Kandy – the former with his insightful readings and creative dramatisations, and the latter with her widely acclaimed virtuosity at the pianoforte.
The Alliance Française de Kandy has moved location a few times in its 46-year-old history and is currently located at No. 640/2, Peradeniya Road, Kandy. Currently headed by the charming Franco-Swiss Director, Madame Laure Mermoud Fernando, the Alliance Française de Kandy is indeed a cultural haven in quiet sylvan surroundings. It is the major French language and cultural institution that serves not only Kandy but also its surrounding areas with vigour.
Vive la langue française!
The views and opinions expressed in this column are those of the author, and do not necessarily reflect those of this publication.