The Alliance Française de Matara is born!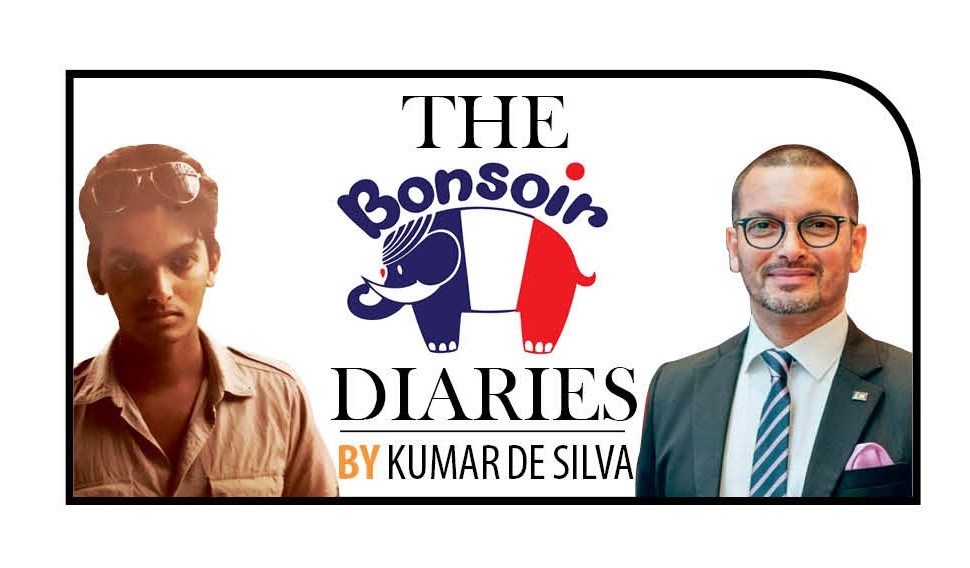 "The Bonsoir Diaries" by Kumar de Silva is a cocktail of chapters, bursting at their seams with pithy asides, a trail of faux pas, and tit-bits from behind the scenes, marinated with anecdotes and drizzled with nostalgia, revealing everything you never saw on your favourite television show… from the '80s through the '90s into 2000.
Bonsoir was happy to be present at the official inauguration of the Alliance Française de Matara at the Young Men's Buddhist Association (YMBA) building at No. 29, Rahula Road, Matara on 15 March 1997.
It was a morning, I remember, and there was great excitement all round. Its 30 students were present, as were the two teachers, Dasaratha Jayasuriya and Dr. A.J. Ruhunuhewa.
The Chief Guest was Paris-based Fondation Alliance Francaise Representative Gerard Gutle. Among the VIPs were MP for Matara and Minister of Telecommunications Mangala Samaraweera, Alliance Française de Matara President and Gynaecology Association President Dr. S.P. Kularatne, Matara Government Agent Mr. G. Jayasekara, and St. Mary's Convent – Matara Principal Sister Sandamalee Kurera, among others.
As the French language rapidly gained popularity in Matara, there arose popular demand to extend this facility to Galle. Meanwhile, statistics also indicated that the student population in Matara was 18,000 while Galle had 30,000. A decade after its launch, the Alliance Française de Matara opened its branch in Galle to celebrate its 10th successful anniversary.
The premises at No. 196A, Wakwella Road, Galle was officially inaugurated on 9 November 2007 by then Ambassador of France to Sri Lanka Michel Lummaux and Southern Province Chief Minister Shan Wijayalal De Silva.
Over the years, staff and students of the Alliance Française de Matara have regularly been sent to France to undergo French language training.
A decade and a half later, today, the Alliance Française de Matara has grown to be the premier French language teaching institution in the South. During those early years, not a single school in and around Matara offered French as a subject in the curriculum.
Today, 16 years later, French is a much-sought-after foreign language in the South, both as an educational and commercial tool. With southern Sri Lanka gaining importance as a commercial and economic hub, in addition to its already popular sun-and-sand tourism, the French language has now got a new lease of life.
Matara today boasts of seven schools teaching French as a foreign language. They are Rahula College, St. Thomas Girls' School, St. Thomas Boys School, St. Mary's Convent, Sussex International, and Leeds International, with a total of about 40 students learning the French language for the Advanced Level (A/L) examination.
Similarly, in 1997, Galle had only one school teaching French. There are nine schools today: Sangamitta College, Southlands College, Sacred Heart Convent, President's College, Richmond College, Mahinda College, Sussex International, Leeds International, and Dharmasoka College Ambalangoda – all teaching French for the A/L examination.
It goes on record that almost all teachers of French in these schools are former students of the Alliance Française de Matara.
Both institutions organise seminars in schools and teacher training programmes with French trainee students, and also help develop school libraries.
Much of the success of these two institutions goes to Founder Director Dr. Ruhunuhewa. Subsequent to his initiative, the University of Ruhuna, where he is a Professor of Buddhist Civilisation, inaugurated its first Centre for Modern Languages in 2004. A record 56 students registered for the French certificate course conducted by Dr. Ruhunuhewa, in collaboration with the Alliance Française de Matara.
The following year saw the establishment of the Centre for International Relations, with Dr. Ruhunuhewa at the helm as Director. In recognition of his continuous efforts to promote the French language in Sri Lanka, the Government of France conferred on Dr. Ruhunuhewa the prestigious title of Chevalier dans l'Ordre des Palmes académiques in 2009.
In keeping with the spirit of the Alliance Française worldwide, the Alliance Française de Matara and its branch in Galle regularly organise a wide range of cultural activities, both Sri Lankan and French, and thus link and bring our two nations closer to each other.
The views and opinions expressed in this column are those of the author, and do not necessarily reflect those of this publication.