The UL flight that never took us to Paree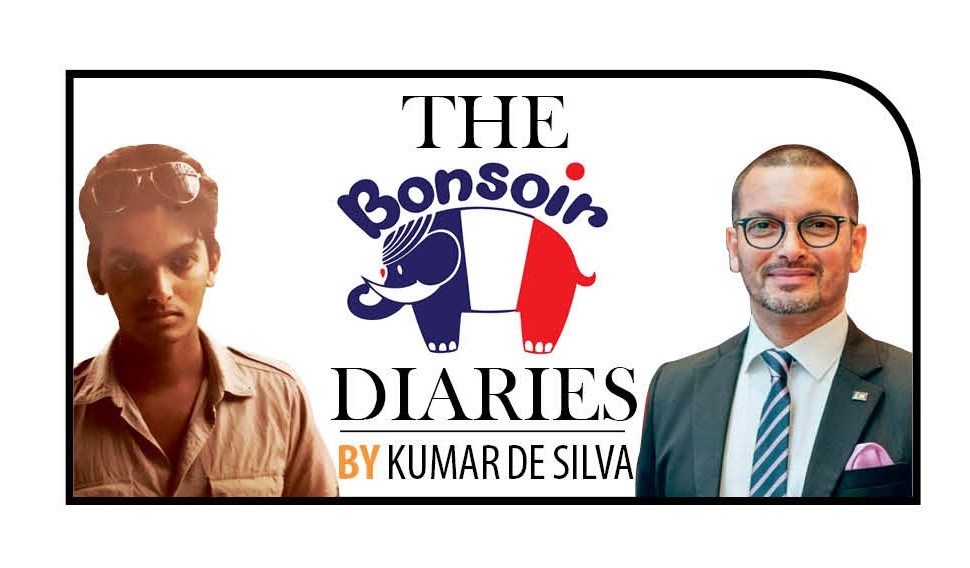 In the course of our journey through Bonsoir and the believable make-believe we indulged in, Yasmin Rajapakse discovered that, as part of its connection with Airbus Industrie, members of SriLankan Airlines crew were regularly trained in Toulouse, France. Madame sprang into action, phoned her contacts, did her research, and got a programme ready – "Bonsoir on a SriLankan Airlines flight to Paree, and, en route to Toulouse."
Once again, we hauled all our filming material into the French Embassy's Peugeot and drove in diplomatic convenience to the Bandaranaike International Airport at Katunayake. And there to meet us were SriLankan Airlines personnel who whisked us to a UL aircraft that was parked out on the tarmac.
The "passengers" were ready in their seats, the in-flight staff was in position, as was Chinthananda with his camera on a tripod under the Bonsoir umbrella and sheltered from the noonday sun.
The Bandaranaike International Airport at Katunayake didn't have aero-bridges at that time and so Yasmin and I walked up the gangway with measured steps like royalty, paused at the top, graciously waved at imaginary crowds of screaming fans below, and entered the aircraft. The doors closed as the gangway moved away.
CUT.
The next shot was one of an UL flight taxiing and taking off.
CUT.
The next scenes were of Yasmin and Kumar inside the aircraft and being showered with the traditional SriLankan Airlines warmth and hospitality. We walked up and down the aisles as though we owned the place, (pre-planned) chatting to some of the "passengers" in French. We also chatted to the captain and the crew (for real) in both English and French about their experiences during training in Toulouse, France. They did have a lot of stories for us – amusing, hilarious, and unforgettable.
Crew member Eraj Pinto speaks fluent French and so we chatted to him about how the crew handles non-English speaking French passengers, etc. The 11-hour flight to Paree was telescoped into Bonsoir's 25 minutes running time and then we "arrived" at Charles de Gaulle airport on the outskirts of Paris.
CUT.
The next was a close-up shot was of a UL flight landing. 
CUT. 
The doors then opened on a bright Parisian summer morning with the sunlight streaming on the gangway. Yasmin and Kumar appeared at the top of the steps, the first to disembark, refreshed, to take the connecting flight to Toulouse. Chinthananda was very careful to take close-up shots and leave out the Katunayake coconut trees and stray crows from his camera frame! 
As much as we wished it had, that UL flight never took us to Paris. It was parked, all the time, at the edge of an unused tarmac at Katunayake.